Watching sunrise at Angkor Wat was one of the most spectacular experience we had during our stay in Siem Reap. Weather you're booking with a tour or doing it yourself, this guide will prepare you for watching the Angkor Wat sunrise!
Getting Ready for the Angkor Wat Sunrise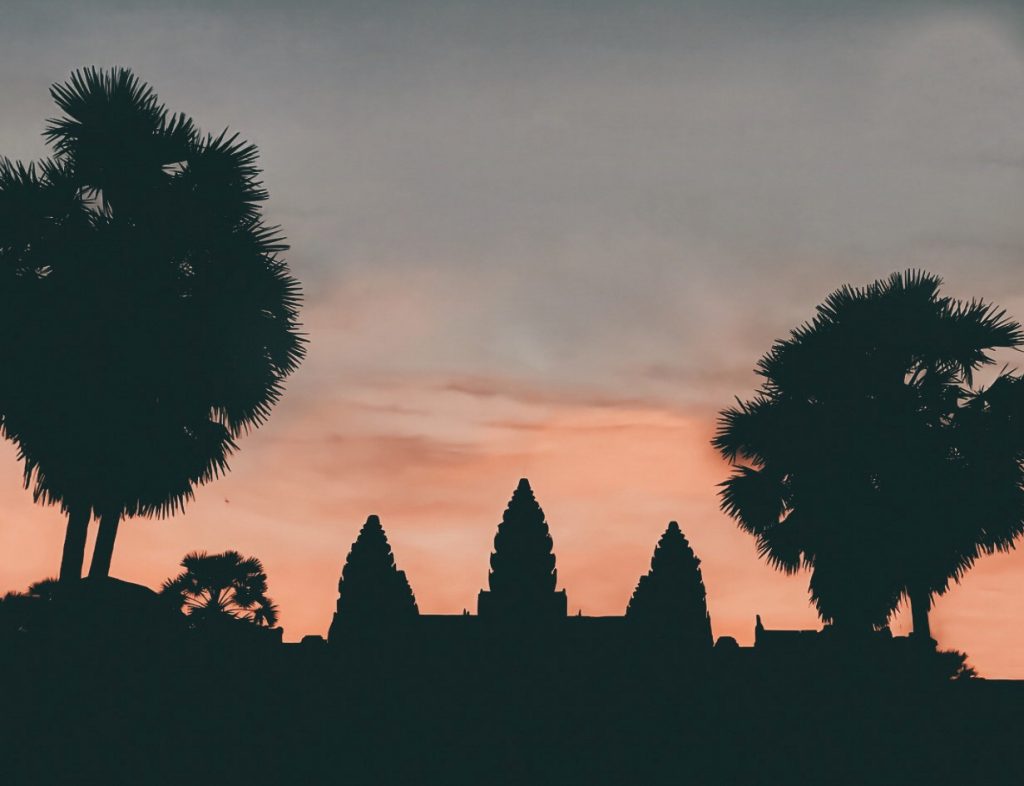 Waking up so early felt like torture. But after a quick shower and choosing an outfit for the day, it was time for sunrise at Angkor Wat. It was 4:30 am when we were greeted by our tour guide at the hotel lobby. Though still sleepy, we were very excited so we quickly jumped into the car to get there early!
We didn't buy our tickets yet so we had to drop by the Angkor Ticket Office, 4km away from Siem Reap center. After paying, we had our photos taken (you can smile as much as you want) and printed them on our tickets.
Don't fall for those third party companies saying you can buy tickets from them for whatever convincing reason. Because the security at the temples won't accept those.
Read More: Siem Reap Travel Guide: What to Do and See
How to Get There
The best way to get to Angkor Wat and the other temples is by hiring a tuk tuk or a private car. The temple is open from 5:00 am to 6:00 pm everyday and it's 20-25 minutes away from Siem Reap center.
When you get there, you will have to walk on the causeway across the moat to the gateway of Angkor Wat. Head straight and you will see Angkor Wat with two ponds separated by a walkway to the temple. Try to be there by 5:00 am if you want to beat the crowds and get your perfect spot.
Best Spot to Take Photos of the Angkor Wat Sunrise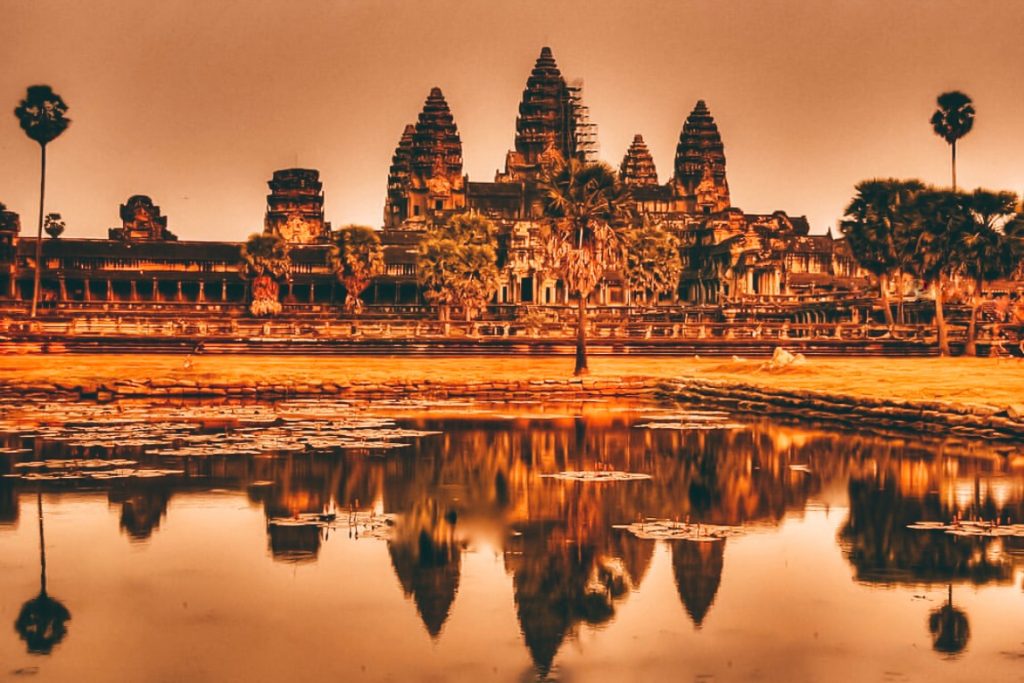 The best spot to take stunning photos of the sunrise at Angkor Wat is at the west side of the Reflection Pond in front of the temple. This is where you'll realize that arriving early is very important! So you can stand in front without someone's arm or camera stick getting in the way as you capture the sunrise.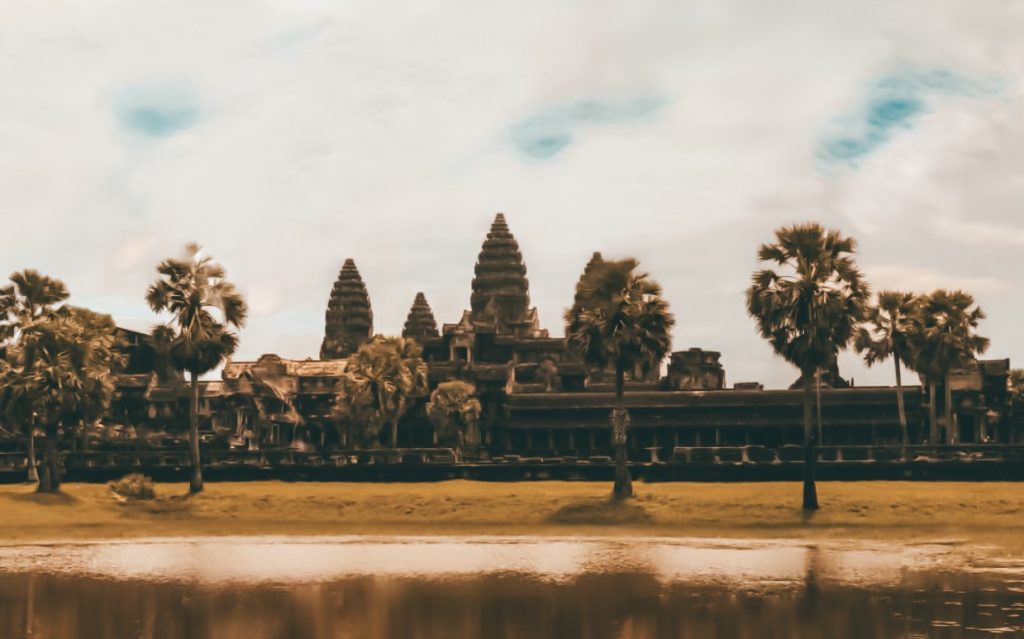 There are people arriving late who tried to squeeze themselves in front of others who got there first. Some actually stepped onto those small rocks piled up in front and blocked part of the reflection, ruining other people's photos!
If this happens to you, just stand still from where you are because you earned that spot. Once you got the shots that you want, be considerate and give other people behind you the chance as well.
You can bring your tripod but be prepared that there will be hundreds of other people who would love to take some photos too. So just bring one that won't take up too much space.
Tips for Watching Angkor Wat Sunrise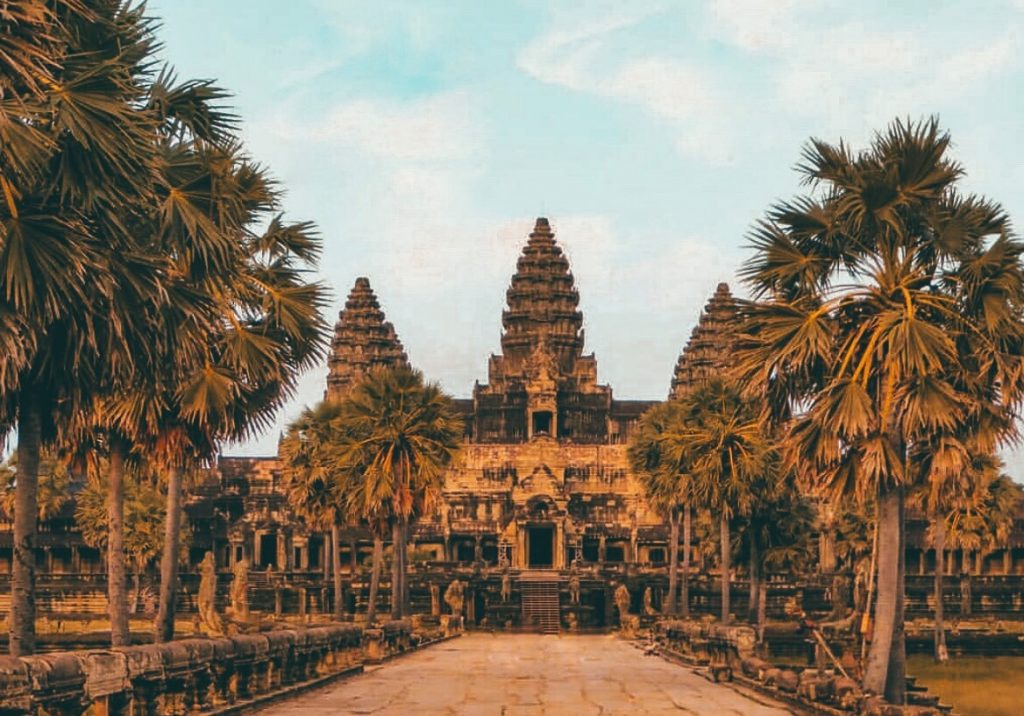 I was never a fan of getting up early but watching sunrise at Angkor Wat was definitely worth it. Here are the tips to get you prepared and help making your experience as amazing as ours!
Get a multi-day pass when possible. This is where some of the magical sunrise photos are from. But experience in Angkor Wat sunrise may not be the same for everyone. This gives you the option to watch it again the next day for better perspective shots or explore the other temples. Also try to buy your Angkor Pass the day before.
Be there by 05:00 am. The gate opens exactly at 5:00 am, I'm sure you want to be one of the first ones to get in so you can get your perfect spot.
Check the weather forecast. Weather can change very quickly. So, sunrise may not be the same everyday and photos aren't going to look vibrant on a dark cloudy morning. Thankfully, we were able to witness the lovely colors rising behind the temple slowly brightening the dark skies.
Bring packed breakfast. Unless you plan to go back to your hotel or get breakfast somewhere else. If you're planning to explore the temple after sunrise, you can enjoy your breakfast and buy a cup of coffee at one of the many food stalls just a few meters away from the famous reflection pond.
Wear comfortable clothes. It can be warm during the day regardless of the season but also observe the proper dress code.
Wear proper shoes or sandals. Use the one you're comfortable wearing as there will be a lot of walking and stair climbing.
Bring sun protection. Hat, mosquito repellent, sunblock, sunglasses and umbrella as the sun can get super strong.
Looks like you're all set for you Angkor Wat sunrise experience! Don't forget to read my Siem Reap Travel Guide!
Did you follow me on Instagram and Facebook yet?