Bangkok Travel Guide: Exploring Bangkok in 3 days is a fair amount of time to experience the highlights of the city. With the abundance of historic temples to visit, riding tuk-tuks, delicious street food, rooftop bars, floating markets, no wonder Bangkok is always on top of the list as one of the most travelled cities in the world!
This Bangkok Travel Guide is perfect to save your time planning and make sure you don't miss the best parts of the city. Whether you're on a layover, long weekend holiday or exploring southeast Asia, feel free to filter parts of this itinerary that fits your time, budget and mood!
Bangkok Travel Guide Day 1: Temples and Museum
Wat Pho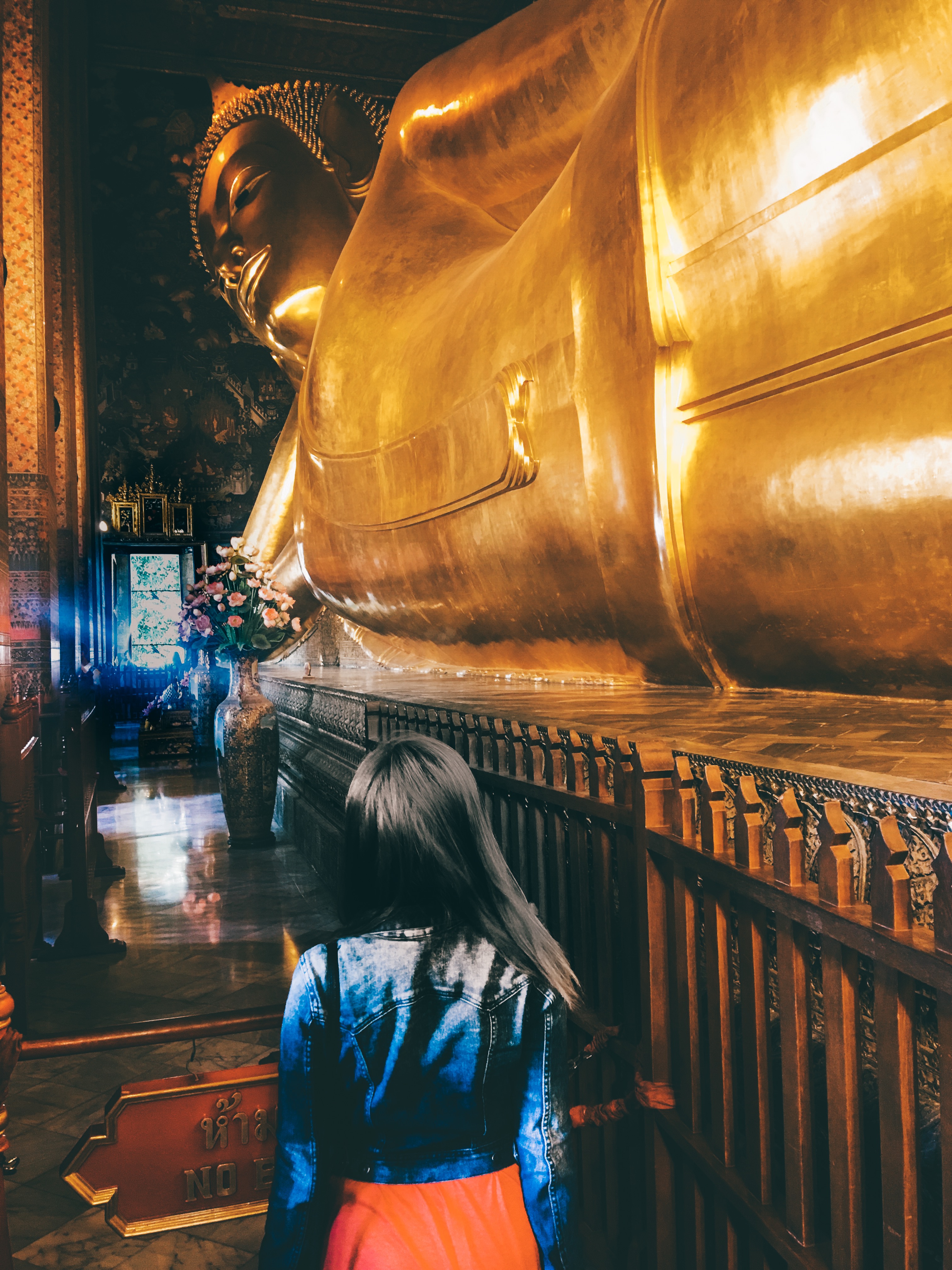 Most tourists do not want to miss the temple with its huge 46 meters long reclining buddha. Founded in the seventeenth century, it is the oldest temple in Bangkok, even older than the city itself! You have to pay an entrance fee of 100 baht and you can visit anytime between 08:00 and 18:30. They also offer traditional Thai massage at 260 baht for 30 minutes available until 17:00. Make sure that you dress politely by wearing clothes covering your knees and shoulders.
Read More: Wat Pho- The Temple of Reclining Buddha
The Grand Palace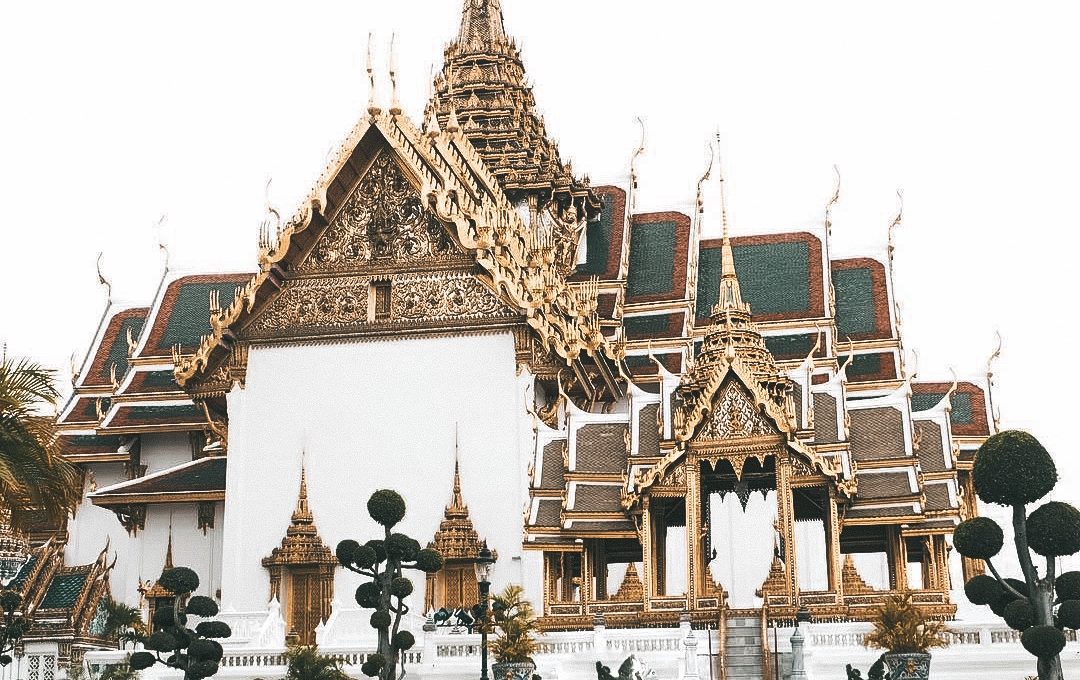 Located at the heart of Bangkok next to Wat Pho, The Grand Palace is a spectacular landmark and is a must-see. Entrance fee is 500 baht which is supposed to include free entry to Vimanmek Palace and Abhisek Dusit Throne Hall but both are closed to the public as of August 2018. The Grand Palace is open daily between 08:30 and 15:30. Also observe the proper dress code by wearing clothes covering your knees and shoulders.
Bangkok National Museum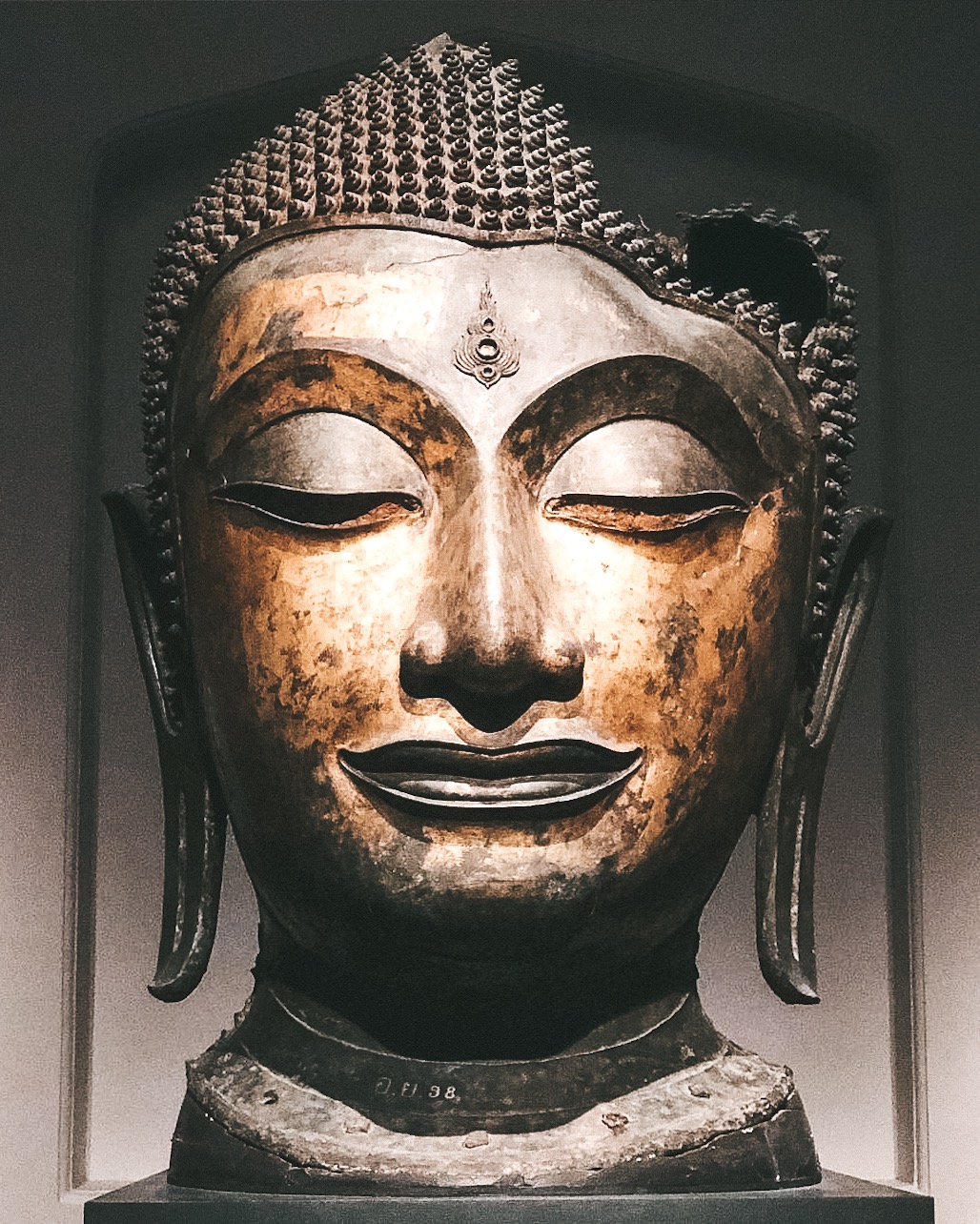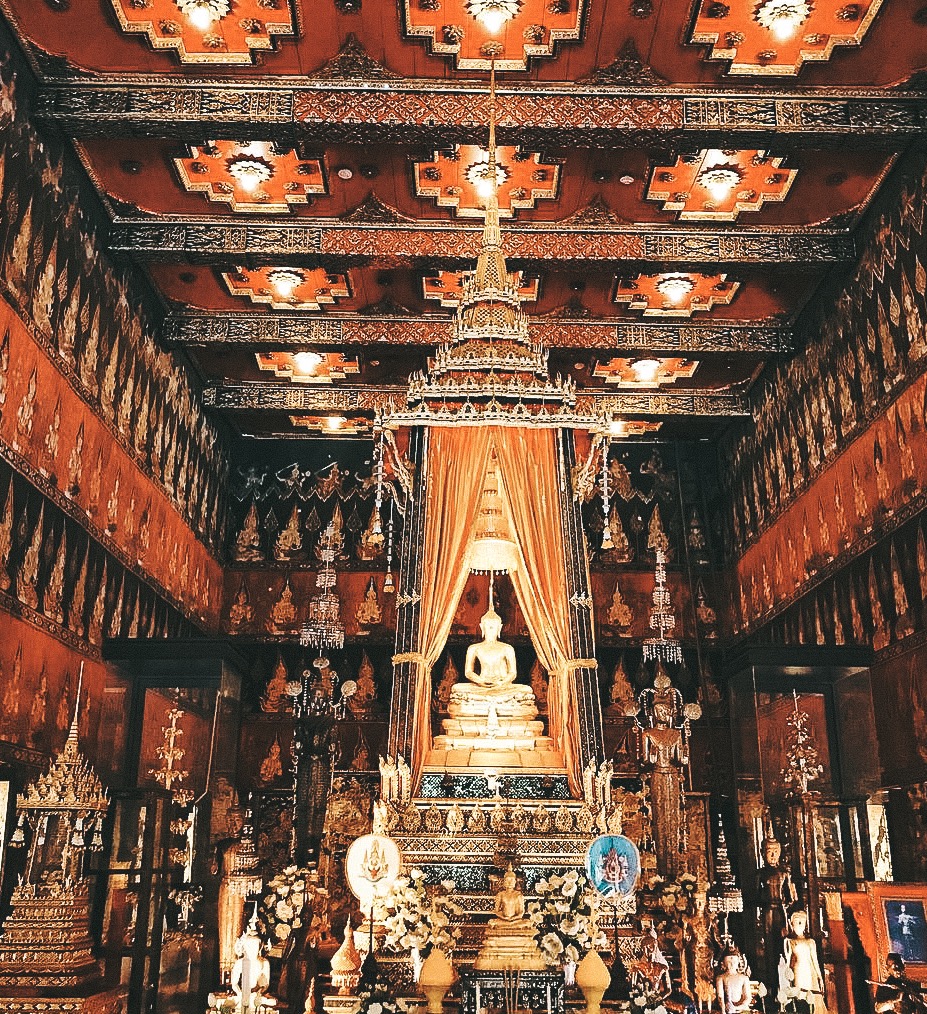 After visiting the crowded Grand Palace on a sunny day but still up to see more of Bangkok, head next to the National Museum. Here you can see the largest collection of Thai art and artifacts collection in the country. Entrance fee is 200 baht and opens between 09:00-15:30, Wednesday to Sunday.
Bangkok Travel Guide Day 2: Park, Shopping Mall and Sunset Lounge
Lumpini Park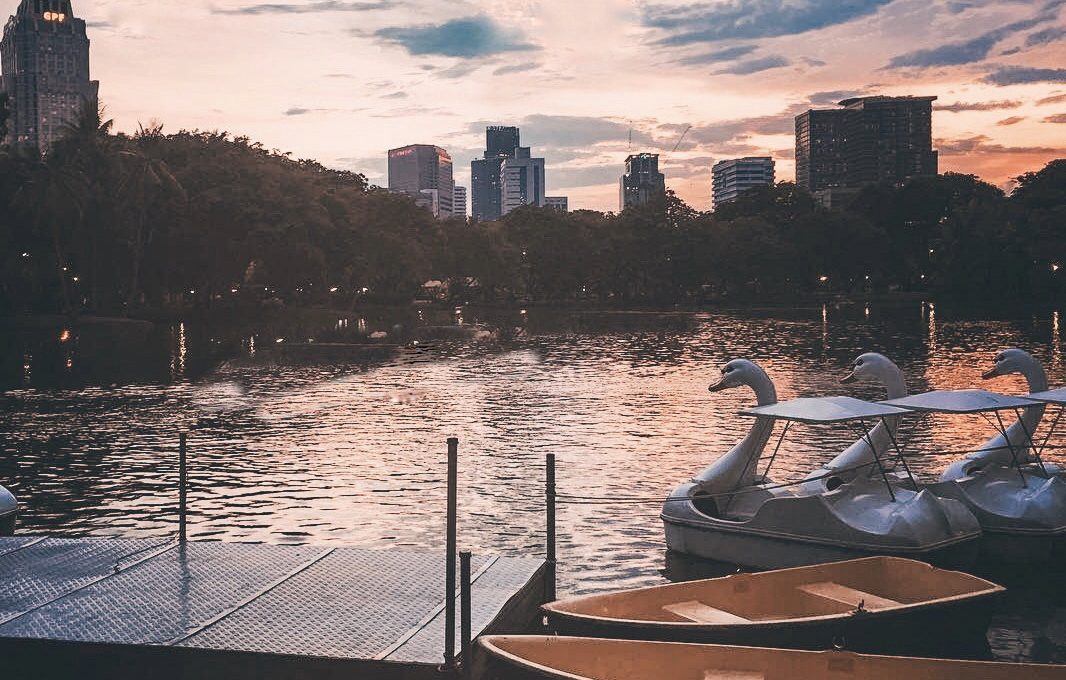 As the breathing heart of the city, the park offers many activities to the public. You can definitely breathe some fresh air here since smoking is banned! Enjoy a break from the city's hustle and bustle with the lush green surrounding trees, flowers and artificial lake, where you can rent boats for a small fee. You may also want to go running around the park. It is open from 04:30- 21:00 so you can visit this either in the morning or at night.
Central World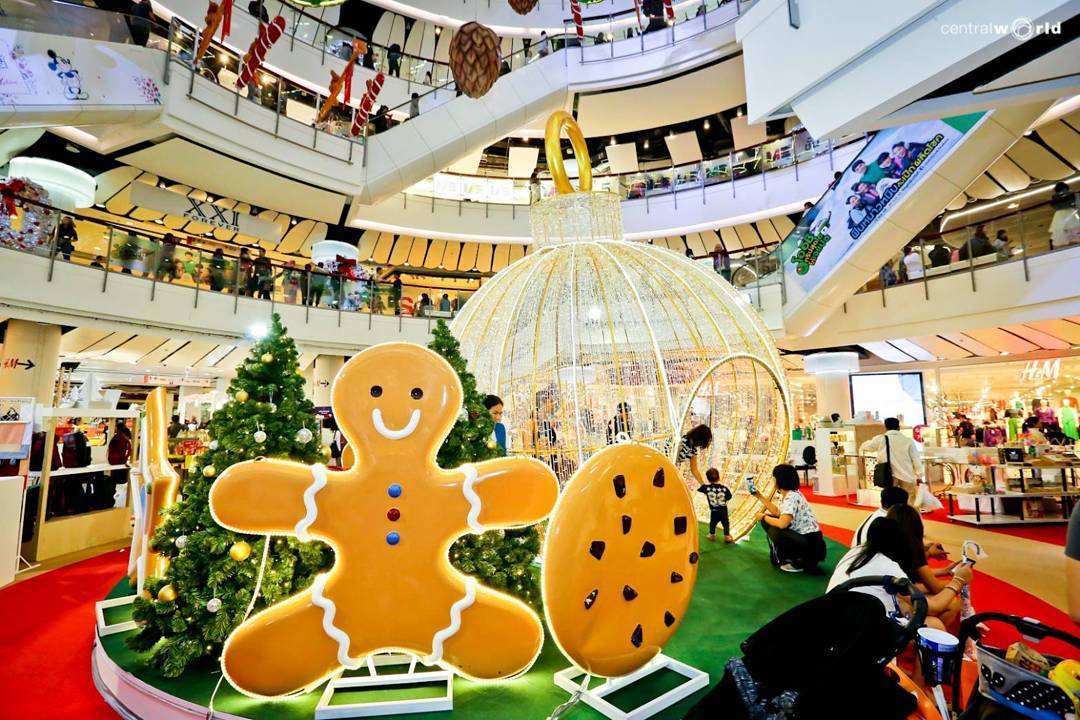 Known as the largest shopping mall in Thailand and among the largest in the world! Offering a mix and range of products and services for everyone that makes shopping more fun and exciting. Seriously, you would probably spend more than half a day here without realizing it. Lots of food options for lunch here too. The mall is open between 10:00-20:00.
Red Sky Bar, Centara Grand at Central World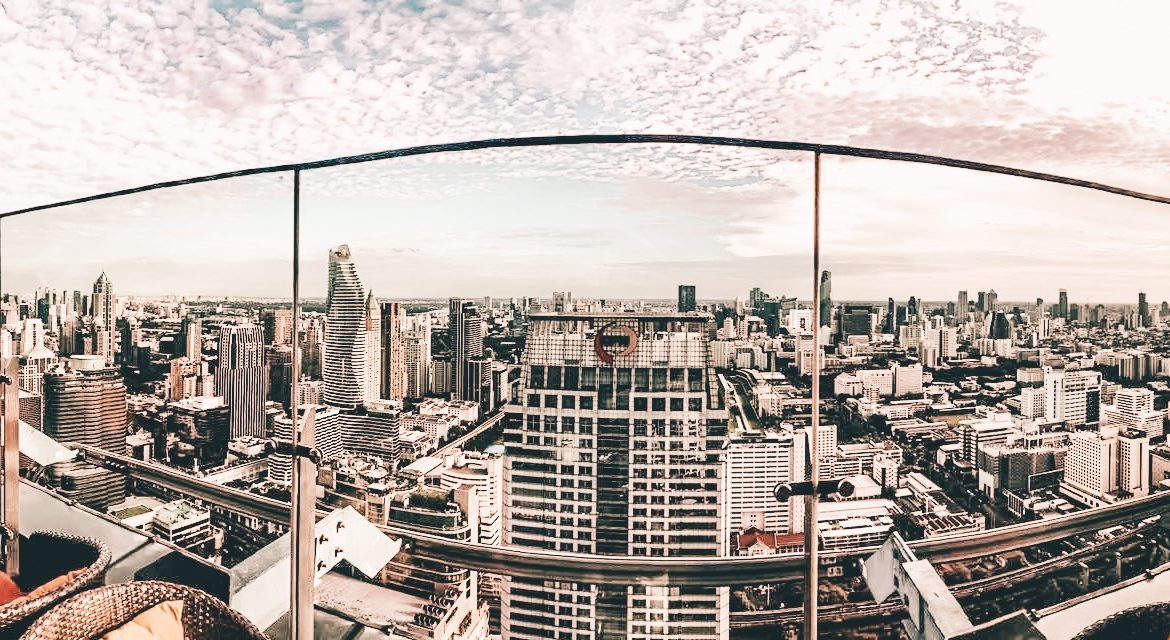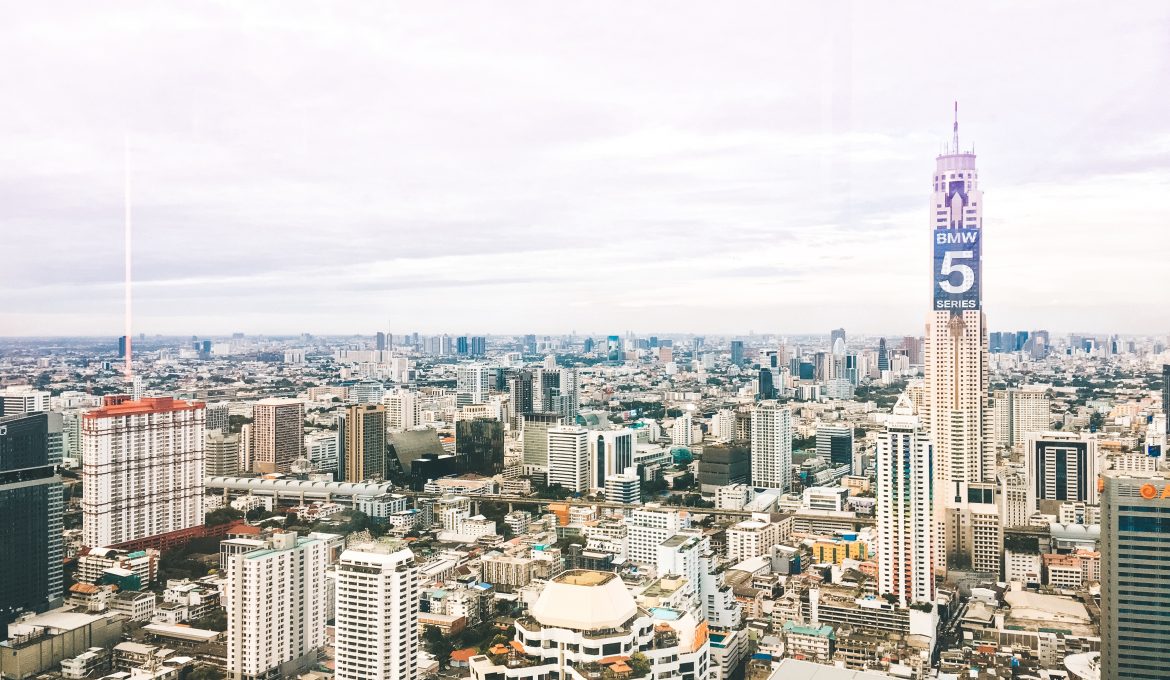 Being on the 56th floor of the building is a perfect spot to watch the sunset while sipping a cold drink. This building is just a few steps from Central World. But here's a tip for you, when taking the elevator you have to:
1.) Go to the 23rd floor
2.) Take another elevator going to the 55th floor
3.) Then take the stairs going up to reach the rooftop and be surprised by the amazing 360 degree view of the city!
We went there before 5:00 pm which happened to be within their happy hour (16:00-20:00) with 2 for 1 drinks and free thai spiced peanuts. For 500 baht, it is a great deal to enjoy a spectacular panoramic view of the city!
Bangkok Travel Guide Day 3: Floating Market and Asiatique The Riverfront
Damnoen Saduak Floating Market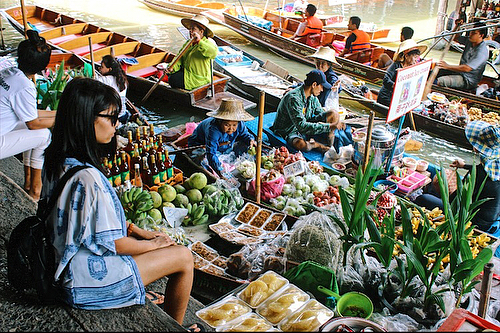 When you hear Bangkok, you think about floating market. The Damnoen Saduak Floating Market is about an hour drive from the city and most organized tours leave around 7:00, so you will have to get up early to catch amazing views and hopefully beat the crowd. Keep in mind that Bangkok is a huge city itself and just getting out of the city can be a painstaking and time consuming task.
Asiatique The Riverfront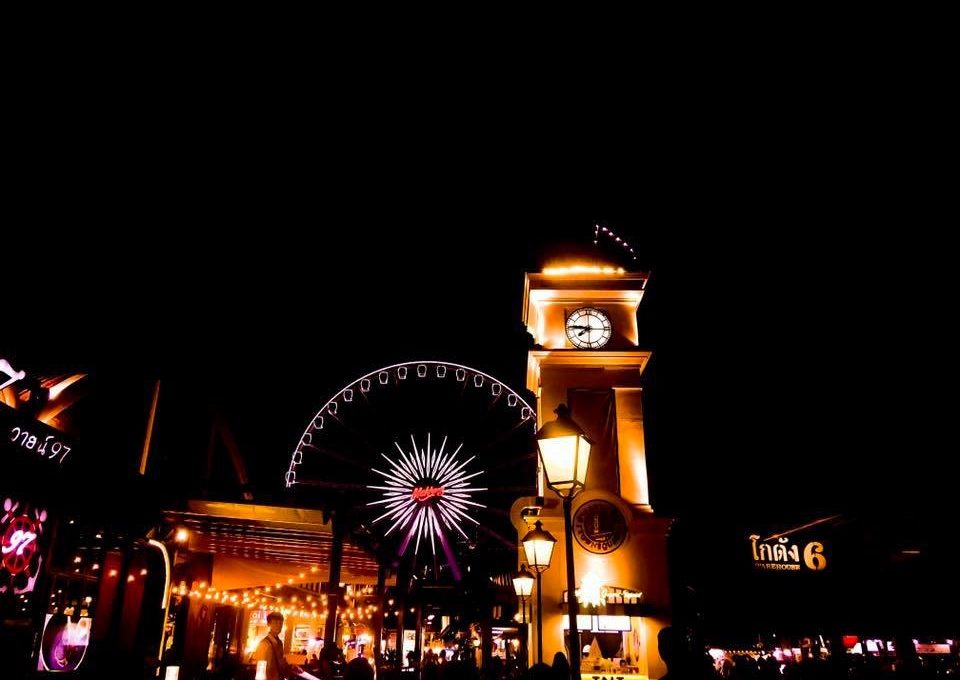 Asiatique The Riverfront is a huge place to visit that not only offers a night bazaar for shopping but is also a perfect place for sightseeing, dining, events, and various other activities. What I liked most about Asiatique was that even though it gets busy, it's not overly crowded so you can enjoy your time. There are over 1500 shops and stalls so you are sure to find lots of interesting souvenirs to take back, although you will have to haggle down the prices since most shops here charge a premium compared to other night markets in Bangkok.
Note: To complete the experience, make sure you take the river boat from the Central Pier. It is FREE if you are going to Asiatique!
How to Get to Bangkok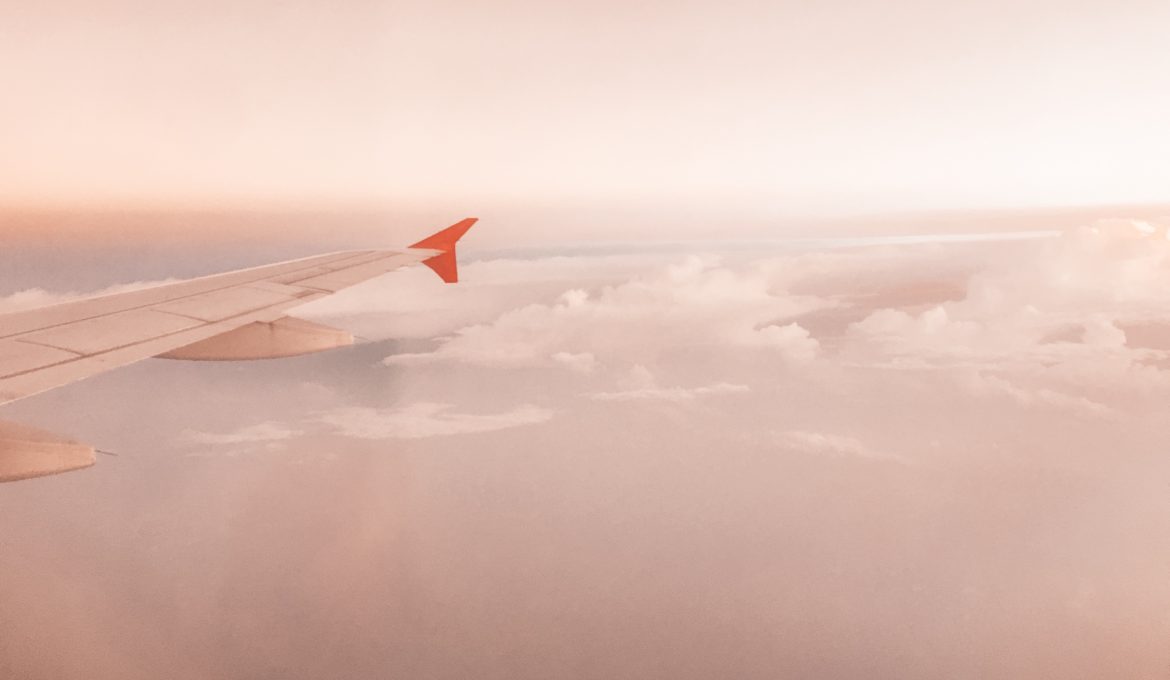 There are a lot of direct flights from Europe to Bangkok as well as one stop flights from the US.
Cheapest deals when traveling across southeast Asia including flights to Bangkok is through airasia (not sponsored!). From Manila, flights can be as cheap as P2990 ($55) one way if you book a few months in advance.
Best Time to Visit
Thailand just like any other country in southeast Asia has a tropical climate and remains humid all year round.
November to March is the peak season with December to January being the coolest months with an average temperature of 80°F (26°C)
April is the hottest month with an average temperature of 86°F (30°C)
May to October is the low season that gives you awesome deals for hotels and other activities. Rains can also be expected but it's been sunny the whole time we visited during this season.
Disclosure: Some of the links below are affiliate links, meaning at no additional cost to you, I will earn a commission if you click through and make a purchase.
How to Get Around Bangkok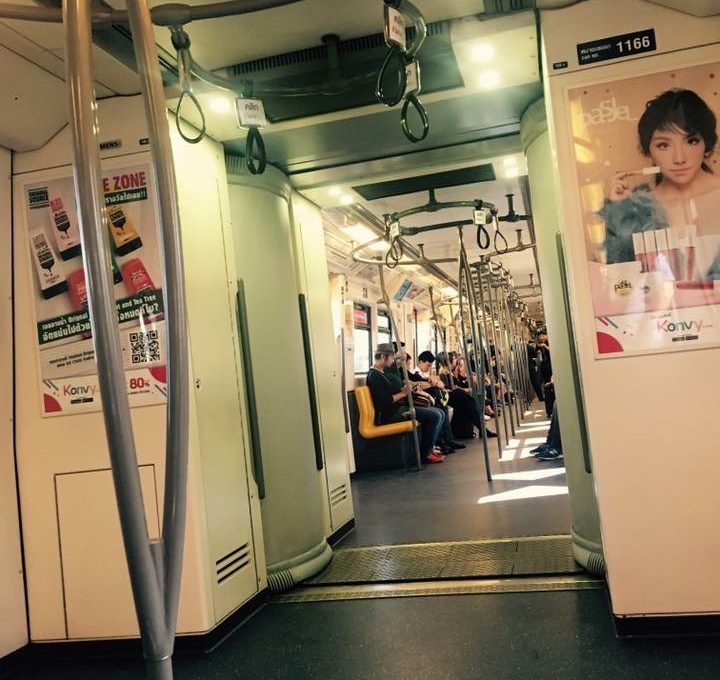 BTS Skytrain or MRT (Metro Train). Bangkok has an improved public transportation and this is the best way to get to your destination around the city for being cheap, convenient and fast. Most of the stations are located close to the popular sites in the city. Tokens can be bought at the station from vending machines with cashiers to assist if you need change.
Tuk-Tuk. These are great for short distances but make sure to use the map so you'd know where you're going and agree with the price prior. If not cheaper, they can sometimes cost the same when taking a cab but Tuk-tuks can bring you to your destination faster.
Grab. Most attractions in the city can't be reached by just taking the train. While Uber is no longer available in southeast Asia, Grab app has taken over and works just the same way so I highly recommend this rather than taxis.
Buses. Taking public buses is a cheaper option. You just have to figure out which buses go where. But remember that Bangkok's traffic can get really busy.
Taxi. Taking a taxi in Bangkok is safe just make sure that you negotiate the price prior. But always try to agree with the driver to use the taxi meter. It can be a different case for everyone which is why I would still prefer to use Grab as much as possible.
Where to Stay in Bangkok
It is best to stay close from the train station. Aside from being convenient when taking the sky train, you'll also save time and energy going to the interesting sites surrounding it. Bangkok has different parts to stay for every kind of traveler. We chose the Sukhumvit area-the longest road in Bangkok. This area offers just pretty much everything. You can walk down the street of countless shops, restaurants, street food, malls and a busy night life. These are the recommended hotels near the Sukhumvit area.
Aspira Sukhumvit
Majestic Suites Hotel
iCheck Inn Nana
Grand Swiss Sukhumvit 11 by Compass Hospitality
Tips When Traveling in Bangkok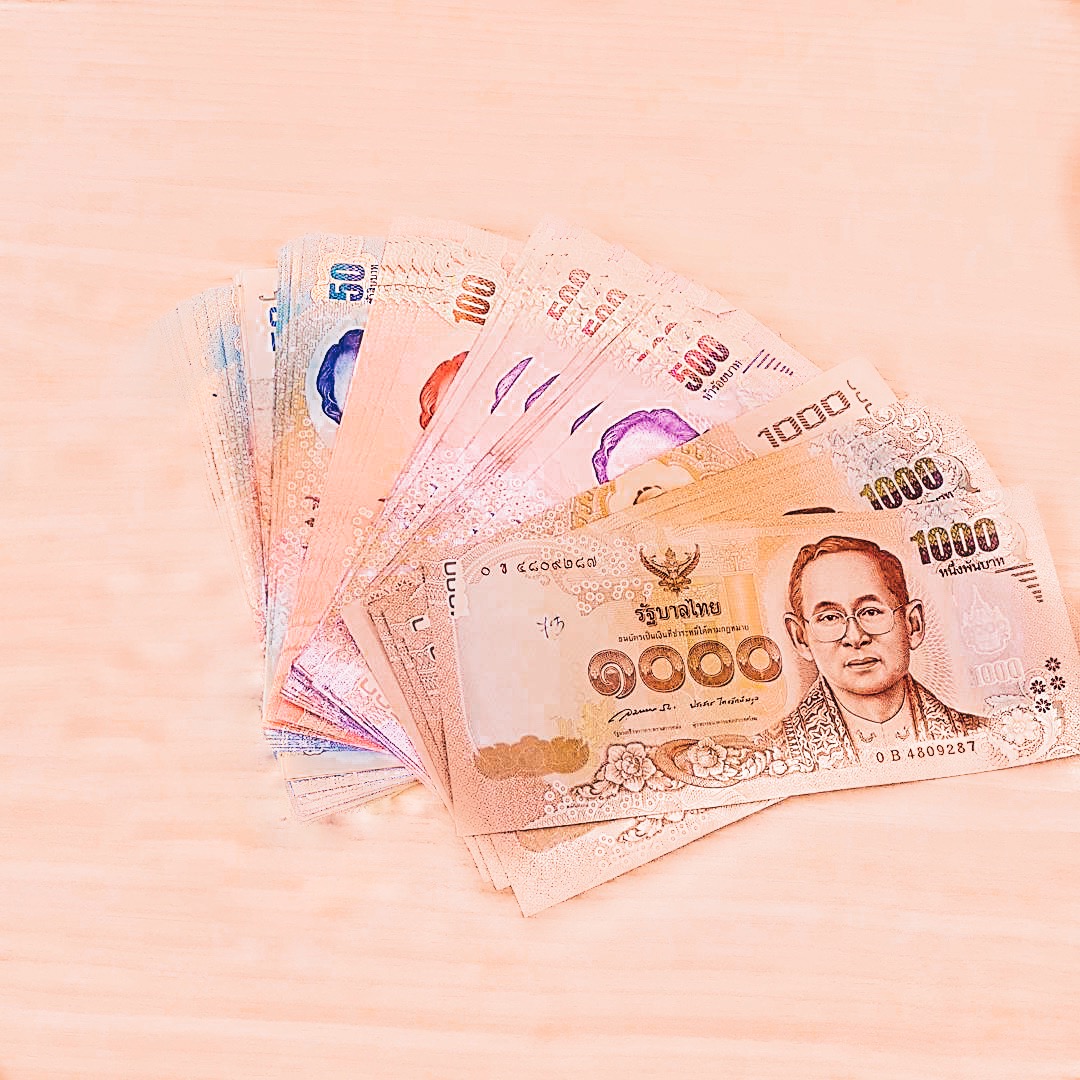 Currency in Thailand is Thai Baht with plenty of money changer in the city.
Get a local SIM card at the airport. Hotels and cafes have a reliable internet in Bangkok but if you're outside exploring the city, you'd need this.
Download an offline map. I've been using Google Maps and never had any issues.
English is widely spoken and understood in touristic places so you're gonna be fine. But it would be nice and fun to know a few Thai phrases!
Avoid tuktuk scams. Yes, we were scammed and we never learned from it the first time! It happened again just on our recent trip in Sri Lanka. To make sure this doesn't happen to you, I thought about writing more about it here.
Thailand is known for a "Ping Pong Show" but it's not like the pingpong sports we all know!