Tuk-Tuk Scam in Bangkok: This city is undoubtedly a great one to visit and makes every minute you spend there fun and special. From the beautiful temples, delicious street food, incredible skyscrapers and friendly locals. But beware of the over-friendly ones!
Tuk-Tuk scam is very common in Bangkok yet, a lot of innocent travelers fall for it including us! Having only a limited amount of time to spend in the city, we certainly had no time to waste. But for people who are trying to make money, like tuk-tuk drivers, don't seem to care too much about it. Being aware on how this works is the best way to make sure this doesn't happen to you.
Tuk-Tuk Scam No. 1: The Grand Palace/Temple is Closed Today
On our second day in Bangkok and we're so excited to see Wat Pho (my favorite temple in the city by the way!). As we were on our way to the gate, this friendly guy asked, "Where are you guys from?", "Is it you first time in Bangkok?" which we gladly answered.
Then he went straight to the point, "The temple is closed for tourists right now, but you can come back later after lunch time."
What a sad news, right? Well, he had a solution for us! He happily informed us that his driver can take us to other "beautiful" temples for 2-3 hours for only 100 baht. That wasn't too bad to pay for a few-hour tour so we immediately agreed. He then showed us the map of the places we're visiting.
Here are some of the photos I took: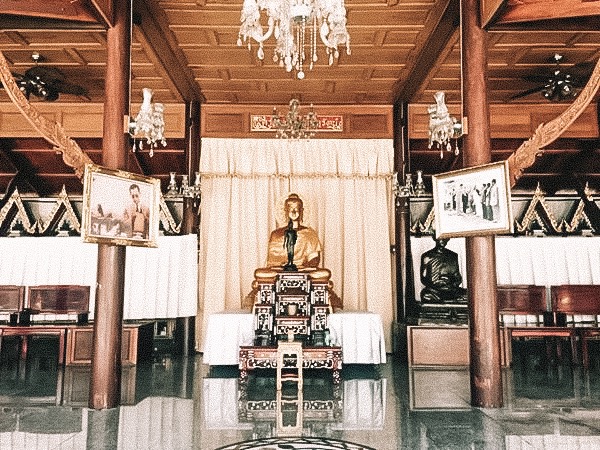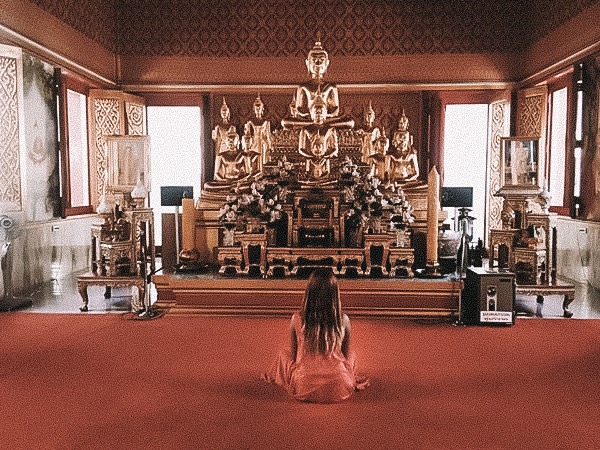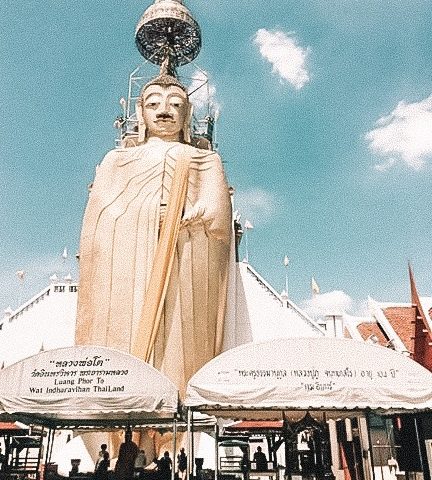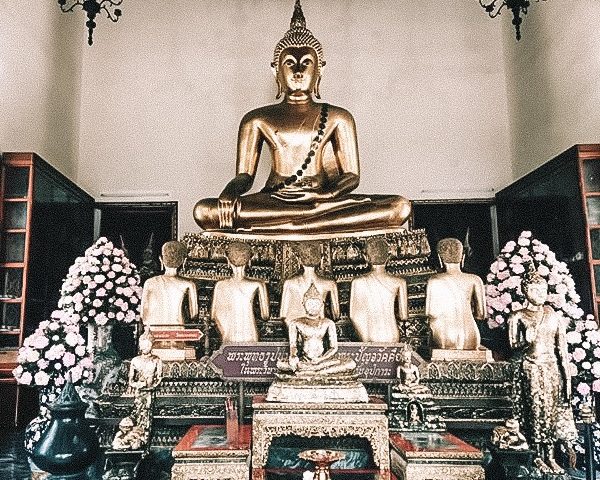 When we got back, we realized that the temple wasn't closed! We saw a lot of tourists exiting who must have been there since few hours ago while we're on our tuk-tuk journey.
Also Read: Wat Pho: The Temple of Reclining Buddha
Tuk-Tuk Scam No. 2: The Tailor Shop
While we were at one of the temples, the caretaker told us that there is a tailor shop opened to the public for exporting and that was the last day to get the chance to get some good deals, so we shouldn't miss it!
We still had a lot of time, so we agreed and our tuk-tuk driver brought us there. There are some interesting stuff there for souvenirs too, but it was just too expensive. Realising that we were not in Bangkok to buy an Armani suit, we just pretended and tried to take a look at what they have. Not being able to buy anything made everyone at the store disappointed!

If you are interested in buying one though, try to look for a reputable tailor shop online with good reviews. Most locals say they make "good quality" suits, but we don't know what quality these shops have.
Tuk-Tuk Scam No. 3: The Gem Shop
The same scenario with the tailor shop scam. A man from the temple will tell you that the Thai government owns the largest production of Sapphires in the country. That they opened an expo sale just for that week and again, "today is the last day" to take advantage of it.
Arriving at the shop, you will be greeted by a lot of employees guarding each corner of the walk way. They will tell you that Thailand is rich with these stones, so you will get a cheaper price with them than anywhere else.
If you didn't look convinced or interested, they will immediately offer a discount between 30%-50% since it's the last day of their sale! The jewelries looked pretty and tempting! But we wouldn't spend hundreds of dollars for a necklace at shops we're not sure about.
Some of the stones may be real, some may not, who knows? But one thing is for sure, the prices they will quote you are going to be a lot more expensive than what it is supposed to be.
Tuk-Tuk Scam No. 4: Thailand Tour Deals
Since you're new to Thailand, your tuk-tuk driver will bring you to their so-called TAT (Tourism Authority of Thailand). They will offer you amazing travel deals that's only for that day! If you haven't planned your itinerary, of course you'll think about taking advantage of the offer.
These agencies are not connected to TAT at all. You might end up paying a lot more than other tour agencies. I even heard a lot of people who paid for fake travel tour packages or were sent to some crappy hotels.
The official TAT is a government agency for promoting tourism in Thailand. They can give you great recommendations depending on what you want to do and see in the country but—THEY DO NOT SELL TOURS.
It is best that you plan your trip ahead and look for tour agencies with good reviews before booking.
Tuk-Tuk Scam No. 5: Famous Restaurant
This isn't very common but still happens. Your driver will suggest a very nice and famous restaurant nearby and you'll get to experience really good thai food at affordable prices.
As a tourist, of course you're gonna try what the locals suggest. When you get there and looked at the menu, you'll be shocked as the prices are almost the same as what you're paying for your hotel stay.
Worse is if you already ordered not knowing how much the food cost. Some restaurants just show the menu without prices.
Why Tuk-Tuk Scam Exist
They think of every tourist as a walking ATM and this is their way to make more money than what they regularly make. Usually, tuk-tuk drivers earn a commission if you purchase from one of the shops or get free gasoline for every tourist or group they bring.
When to Start Getting Suspicious of Tuk-Tuk Scam
Scammers are really good at what they do, that's why they still exist even today. This has to stop now, unfortunately, there's not much the government can do about it. But we do- by being aware and know what to do when you're in the situation.
A local approaching from famous tourist spots or landmarks and even right in front of your hotel. They can speak English and try to make a good conversation. They've been practicing those scripts and even know the latest news in your home country more than you.
A person asking where you're going or where you're from. Carrying a map to make suggestions about other places you can visit making you think they're being helpful.
When you're offered a very cheap Tuk-Tuk ride. In our case it was 100 baht for a 3-hour tour, it could be even lower than that just to convince you to go for it!
They will offer to take you to places you can buy stuff with urgency like "today is the last day of sale". The tailor and gem shop for example.
This is the most common one: Someone telling you that the site is closed for the holiday or tourists are not allowed to enter during that time of the day. Then they will start offering you to take a tuk-tuk ride to see other temples.
When you decline, they will keep insisting or offer you other options.
How to Avoid a Tuk-Tuk Scam
Pay attention and always remember the signs mentioned above.
Plan your itinerary and stick to it. Temples doesn't close for a holiday announced by someone you just met on the street. Usually, google maps will tell you the operating hours (when available) of a particular tourist site indicating the holidays.
When going to the temple, proceed to the ticketing counter: the security won't let you in or allow you to buy the ticket if tourists are not allowed to enter during that time.
Don't accept unsolicited help. Most locals are nice but just to save yourself from the possibility of getting scammed.
When you're in the middle of the tour and realized that you're being scammed, just pay the agreed price to the driver and get off. Take another tuk-tuk or taxi going to a place you knew about like your hotel or a mall.
Easy, right? I wish I've known all of these before. Just know how to DECLINE POLITELY to all the offers you don't need!
The entire tuk-tuk scam journey wasn't that bad until we realized how much we wasted our time going to those places that were not in our itinerary. There's nothing really special about those other temples and going to the shops we weren't interested in.
We probably have enjoyed Wat Pho in the morning rather than joining the crowd of tour groups during lunch time. Well, it was a great lesson to learn.

This post is not to discourage you to visit Bangkok. It is such a beautiful city and is a must-visit destination. Just make sure you're aware that these scams happen and you now know what to do!

If you're planning 1-3 days in Bangkok, make sure to read my Bangkok Travel Guide!
Have you ever been scammed before? What did you do about it? Wanna hear your story in the comments below!

More travel photos on Instagram and Facebook!