Beaches in El Nido is the primary reason why this northern part of Palawan became a famous tourist destination in the Philippines. From stunning limestone cliffs, beautiful islands and islets to jungles. From budget to luxury travellers, there is always plenty of options for everyone.

Beaches in El Nido is definitely an ideal tropical paradise: white-sand beaches, turquoise waters, beautiful sceneries and palm trees.

After spending almost a month in Palawan, I have created a list of our top favorite islands and beaches in El Nido. So make sure to include them on your list!
Also Read: El Nido Palawan: Your Ultimate Travel Guide
Twin Beaches: Nacpan and Calitang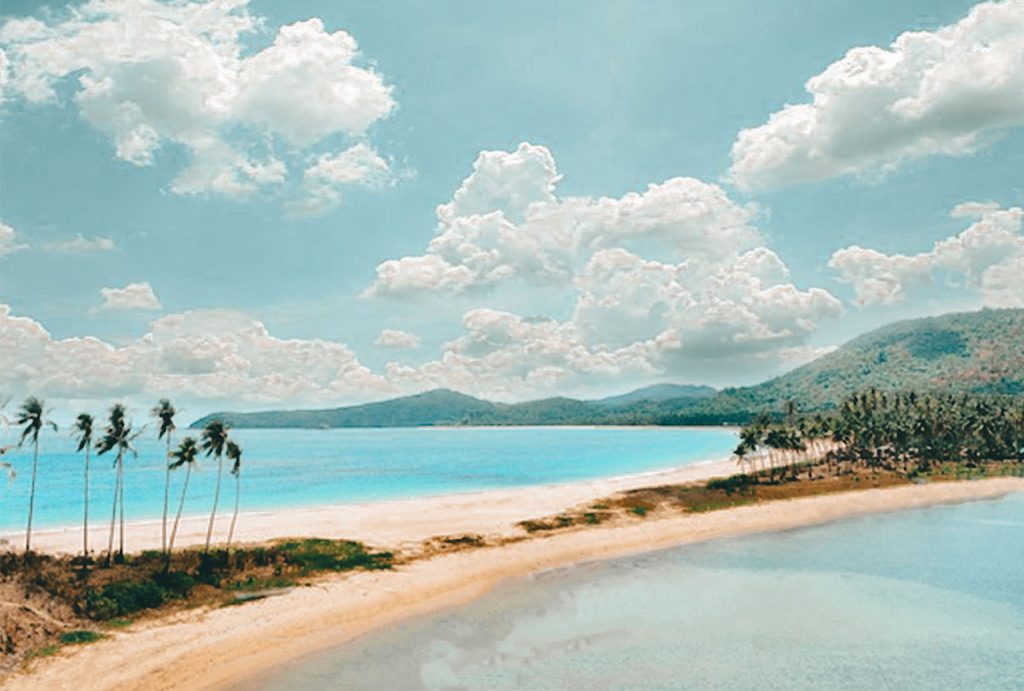 A 3-kilometer long milky sand beach with crystal clear waters, Nacpan is known as one of the most beautiful beaches in El Nido. That being said, it's one of the most visited at the same time. Depending on the time of your visit, it can get crowded but it won't ruin the vibe.

It is developed enough to have descent bars and restaurants if you plan to stay a half day or the entire day here to just relax.

The waves here are a little playful but it's what made it fun. Just avoid going too far from the shore.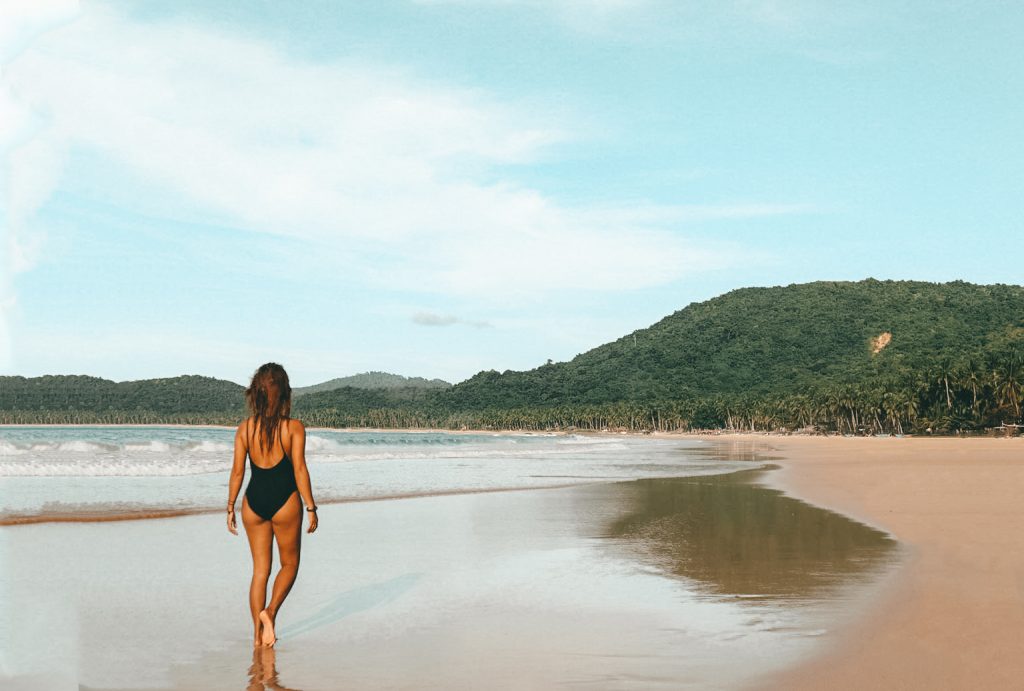 Calitang Beach is right next to it, the reason why they're called twin beaches. So make sure to walk down the beach and explore this side of the area too.
How to Get There: By joining Tour E, hiring a tricycle (from P1000 per group) or by motorbike, which is what we did, ideal for couples and those who knows how to drive.
Also Read: El Nido Day Trip: By Motorbike
Marimegmeg Beach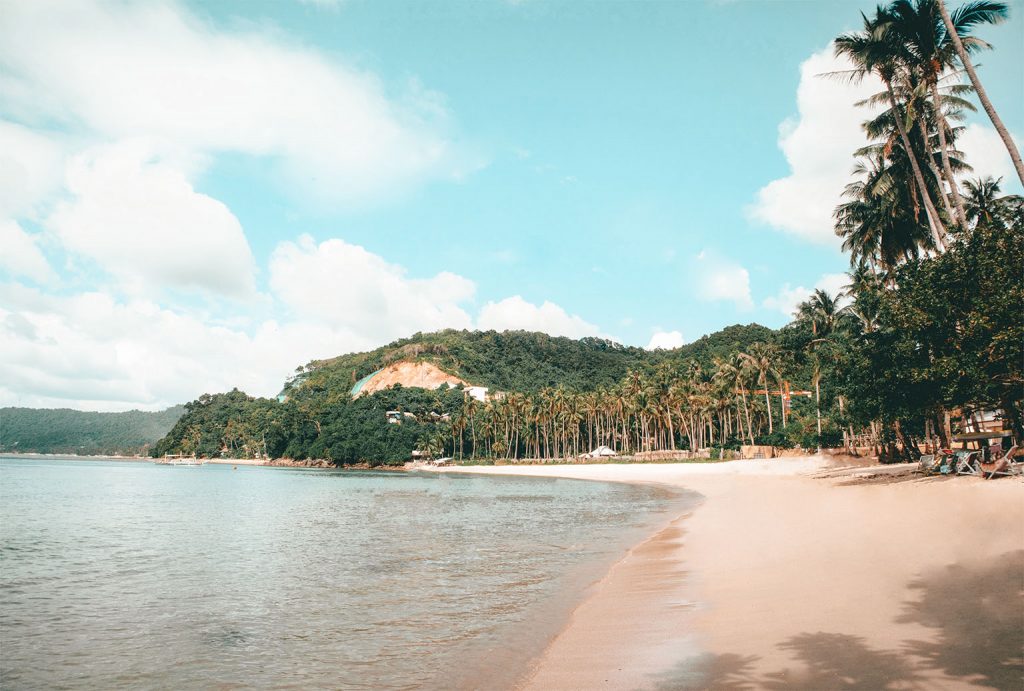 After a tiring island hopping tours from the past few days, we were just too lazy to plan what to do or where to go. But after getting bored just staying inside our room, we decided to drive and see the beaches down south.

We had a few on our list to see and our first stop was Marimegmeg Beach. To our surprise, it wasn't too crowded but not empty enough to have it all to ourselves either. There are several lounging areas to choose from that offers different food and drinks.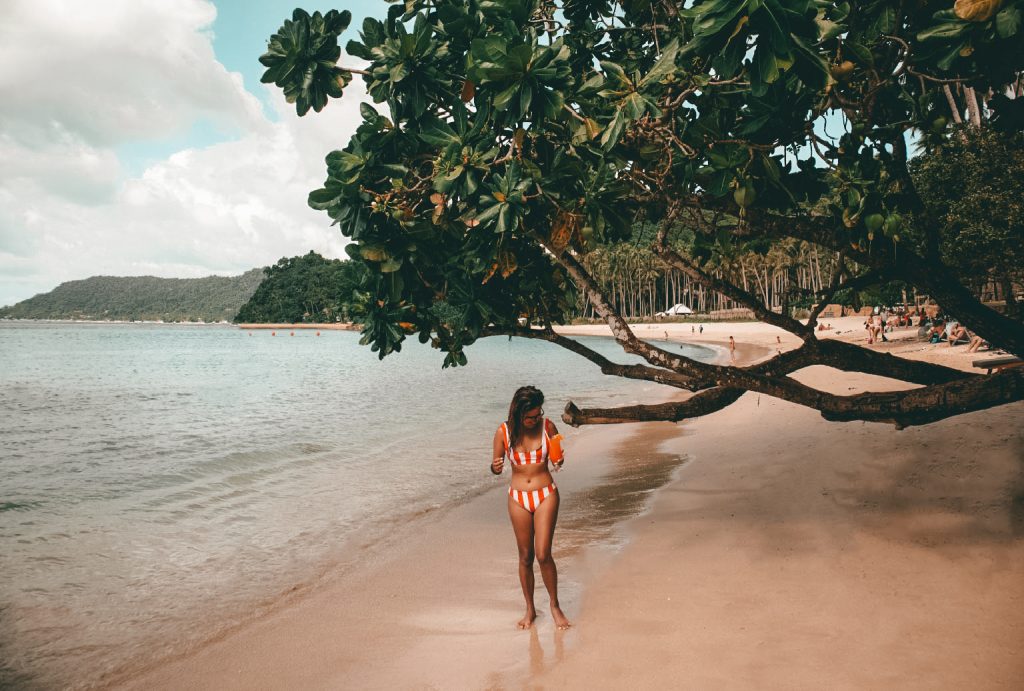 The water was clear and calm, perfect for swimming, but don't forget your sunscreen.

Relaxing and sipping our drinks with a perfect view, we ended up staying there until sunset… which was the best one we've ever seen!
How To Get There: From El Nido town, you can hire a tricycle to get you there for P150. There are a lot of driver waiting on the side of the road so you won't have to worry about the ride when you get back. You can also rent a motorbike which is what we did during our road trip in El Nido.
Note: If you are following google maps, that was where the old path was. When you're getting closer, try to slow down and look for the tricycles parked on the side of the road and park next to them. Then follow the stairs going down leading to the beach in less than 5-minutes.
Read More: El Nido Palawan: Your Ultimate Travel Guide
Cadlao Island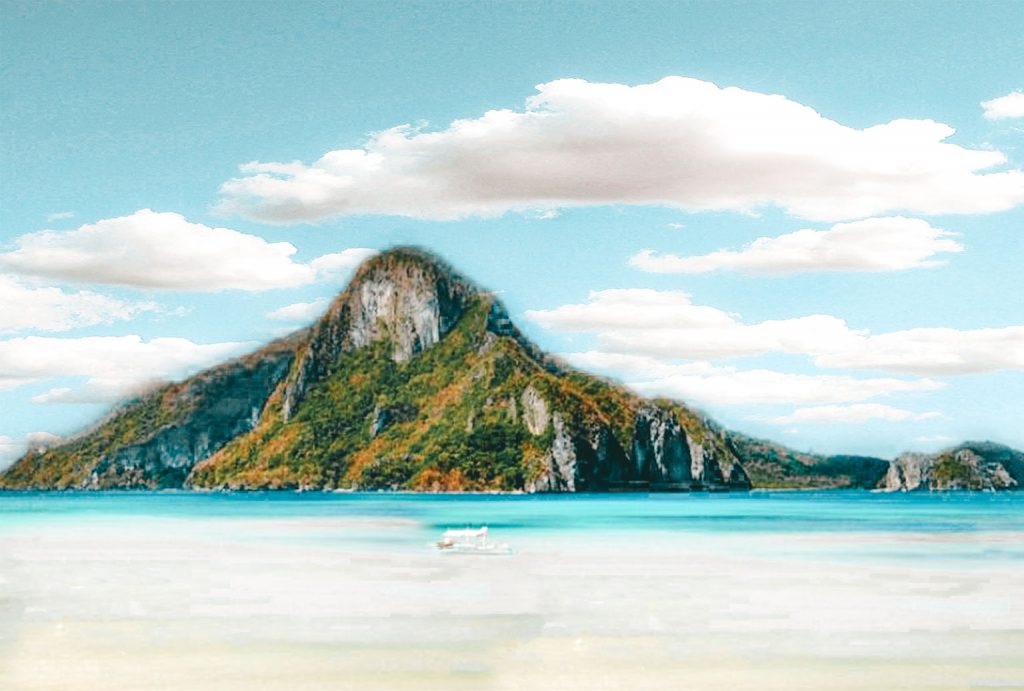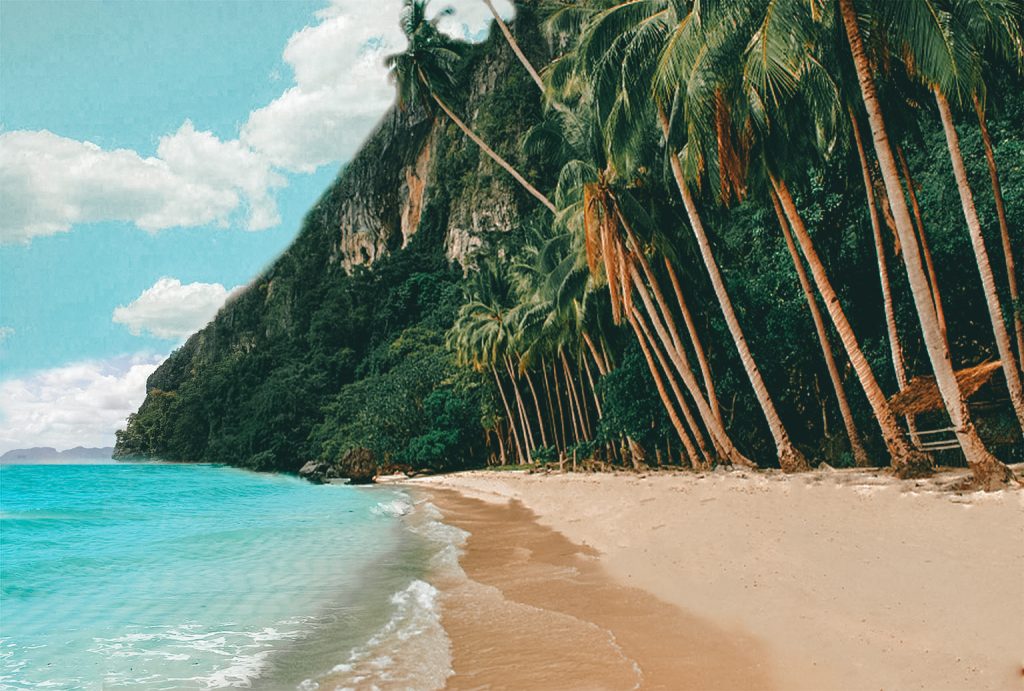 Cadlao island is home to various beaches with clean, clear and calm waters perfect for swimming and snorkeling.

How to Get There: The island is close to El Nido town but only accessible by boat. You can either rent a private boat or join Tour D to visit other beautiful white-sand beaches in the area.
Dilumacad Island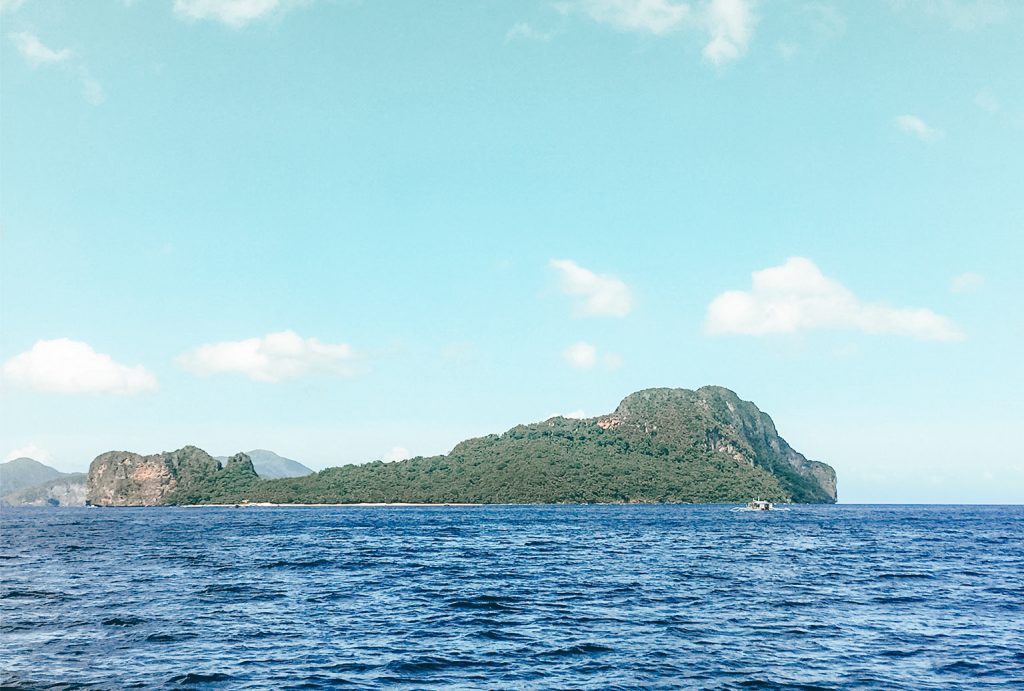 This island is also called "Helicopter Island" for a very obvious reason… it looked like a helicopter! Make sure you look at it from afar to really see its shape. Get your beer or coconut rum from the lady selling in her small hut then relax.

This is one of the places for people to swim and snorkel but the waves didn't play nice which is I think always the case. The corals weren't as beautiful as they used to be either. But it's a nice relaxing beach offering beautiful scenery of its nearby islands.

How to Get There: You can join Tour C which is a must and one of the most popular tours in El Nido.
Seven Commandos Beach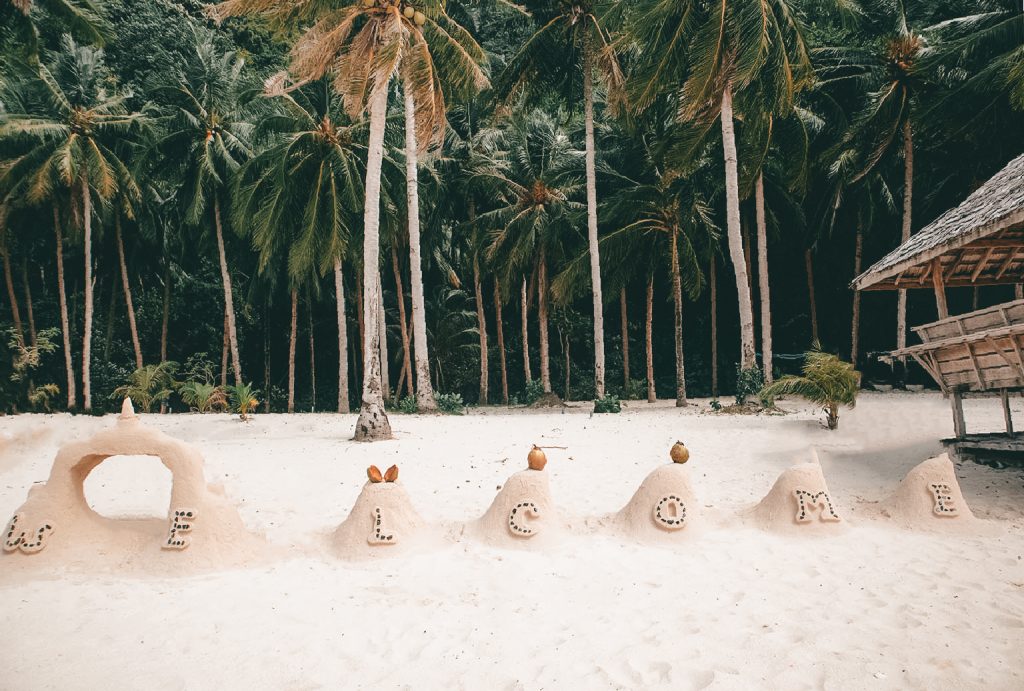 White-sand, lovely turquoise waters, palm trees and beautiful limestone rocks, definitely a must-visit! Aside from relaxing at the beach or swimming, you can also enjoy taking photos and try their swing hanged on the tree.
This is usually the first or last stop for Tour A which is one of the most popular island hopping tours, so expect it to be crowded.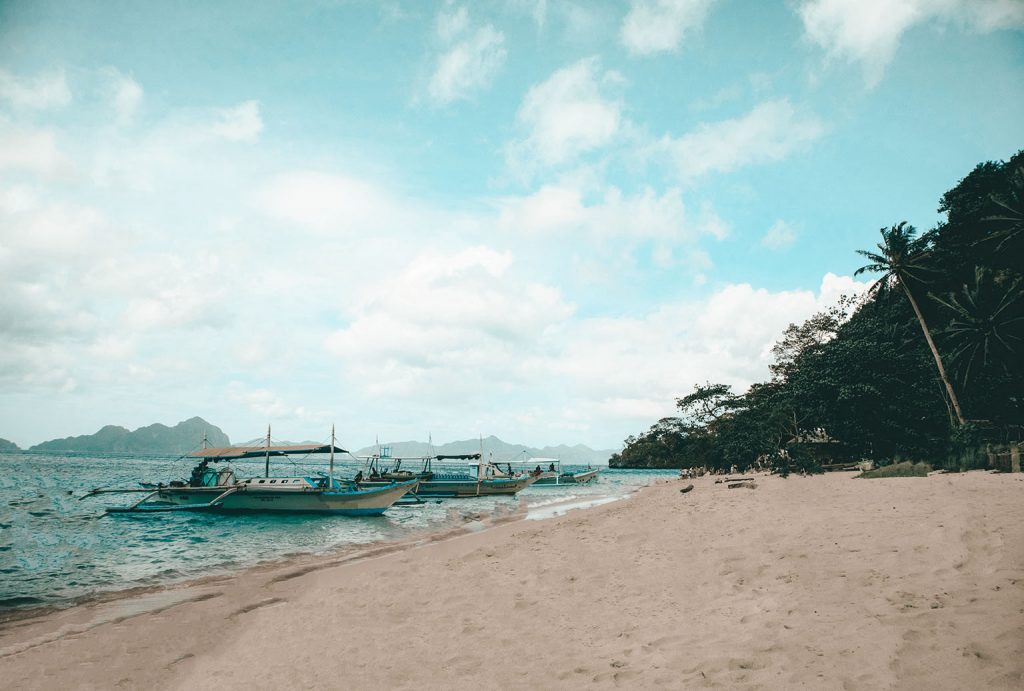 There is a hut where you can bring snacks and setup your food. There's also a man selling coconut and banana cue which is a must-try if you haven't yet.

How to Get There: You can join island hopping Tour A or a private boat tour.
Shimizu Island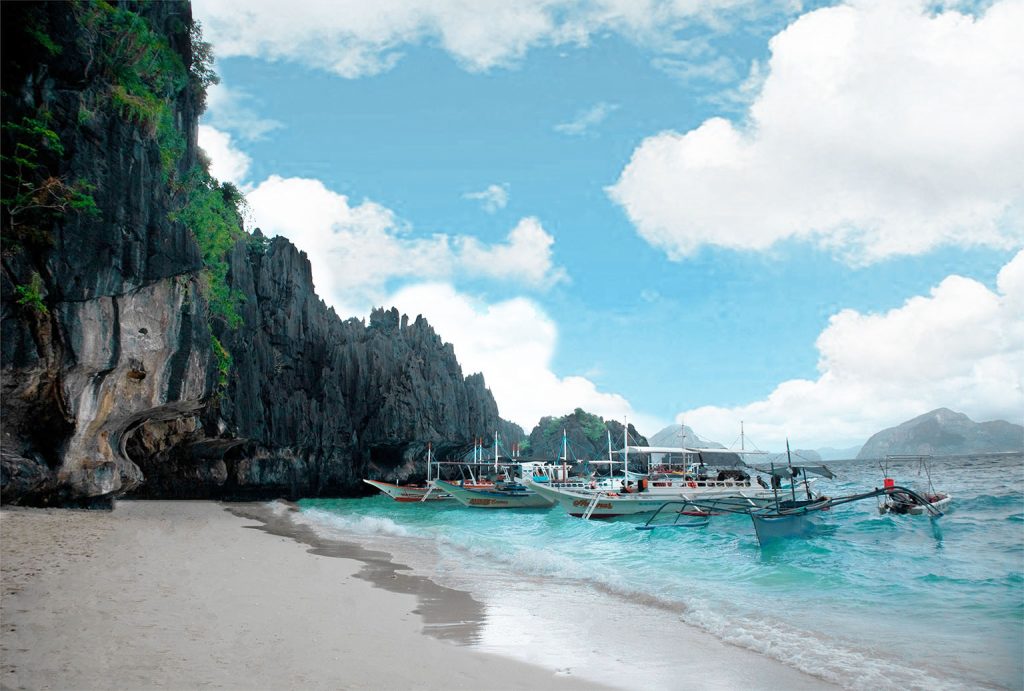 A gorgeous little island with limestone rock walls and a short stretch of white sand beach. Wondering why the island's name doesn't sound filipino?

It was back when divers were still discovering the islands of El Nido. One of them, Mr. Shimizu, went in the underwater tunnel but was unable to find his way out. His body was later found in the island so it was named in his remembrance.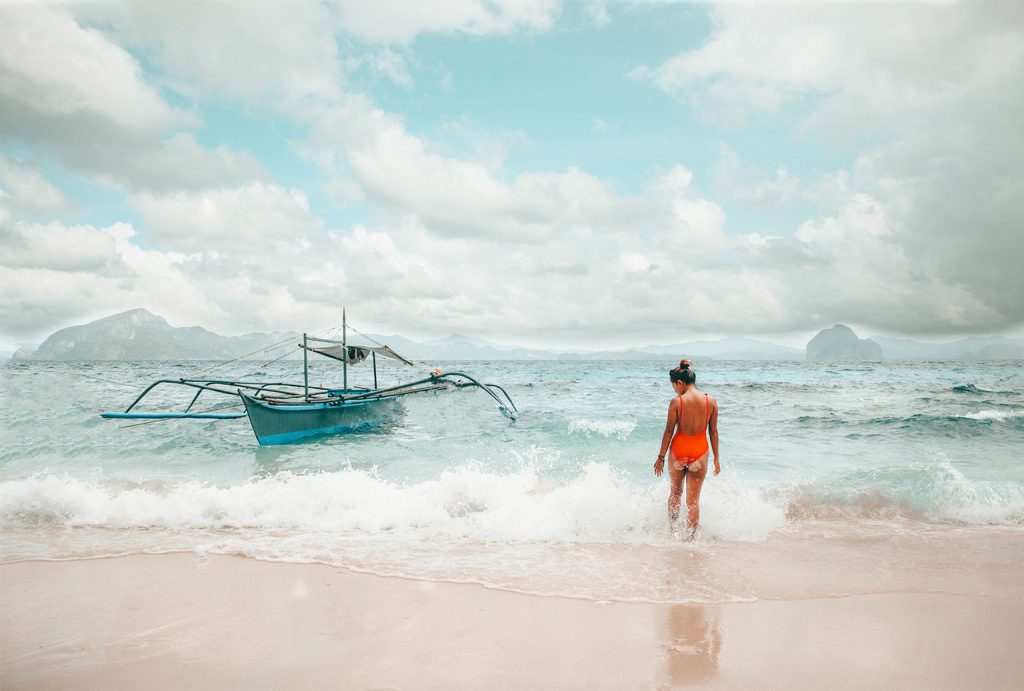 The island is rich with corals and marine life making it one of the best spots for snorkeling in El Nido.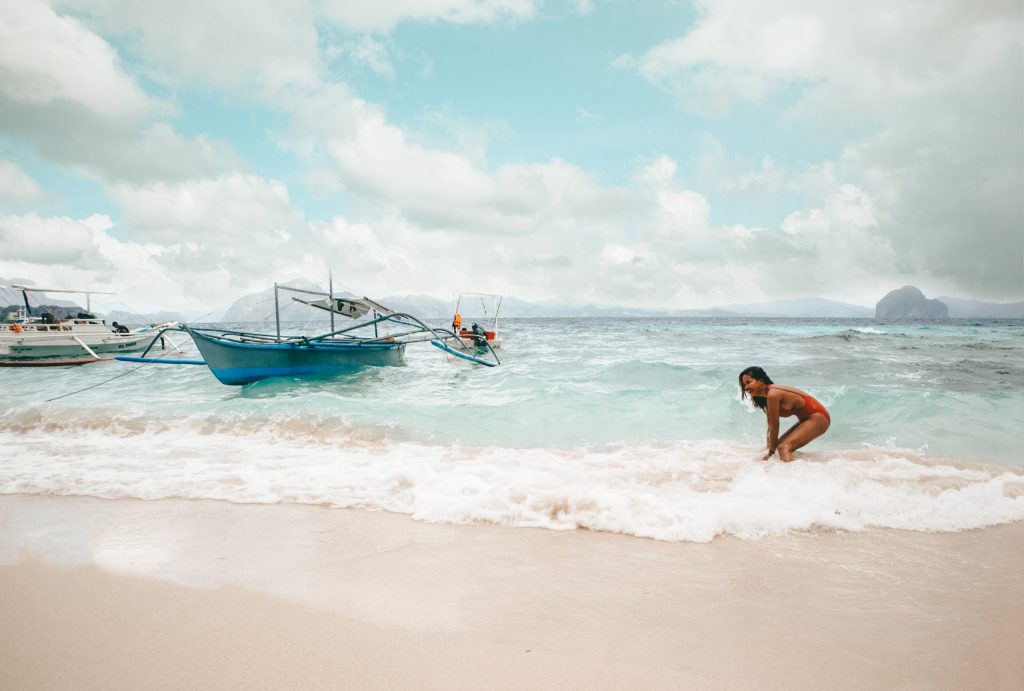 How to Get There: You can join Tour A which is a must and one of the most popular tours in El Nido. Remember that most island hopping tours make this as a stopover for lunch, so it's gonna be a bit crowded around this time.
Las Cabanas Beach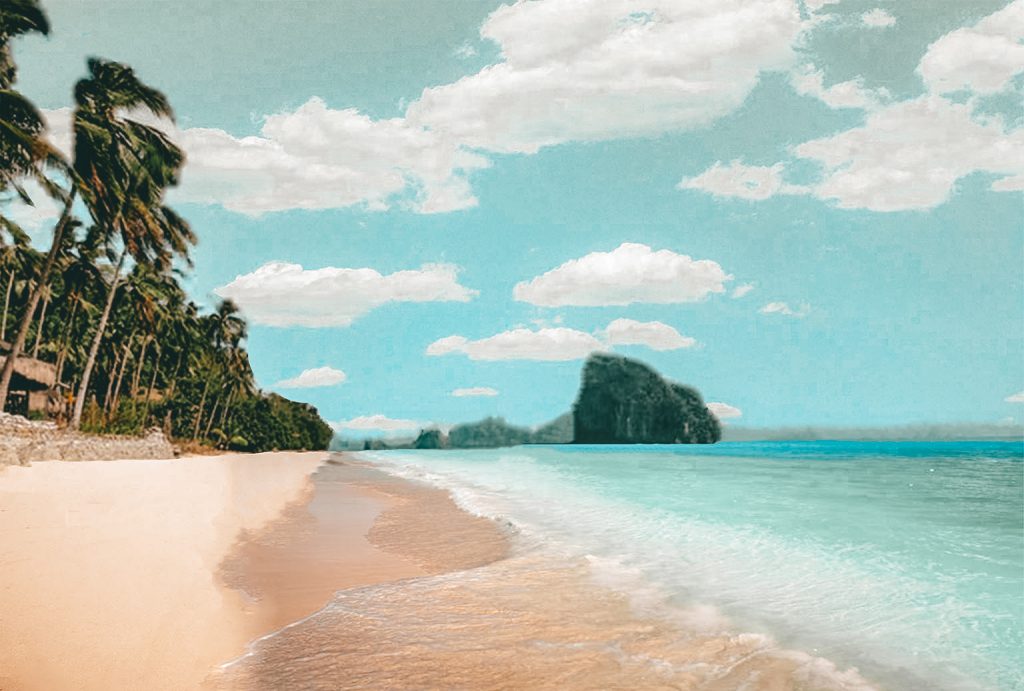 Las Cabanas Beach is just about 15 minutes from El Nido town and next to Marimegmeg Beach. It is also one of the most popular among tourists visiting El Nido but not as crowded as Nacpan Beach. If you want to order a drink or food, there are several places that you can choose from.

Perfect if you just want to spend the entire day or afternoon relaxing and swimming which is close to town. Make sure to stay until sunset!

How to Get There: Take a tricycle that usually cost P150 per trip or rent a motorbike if you plan on exploring a few other places.
Duli Beach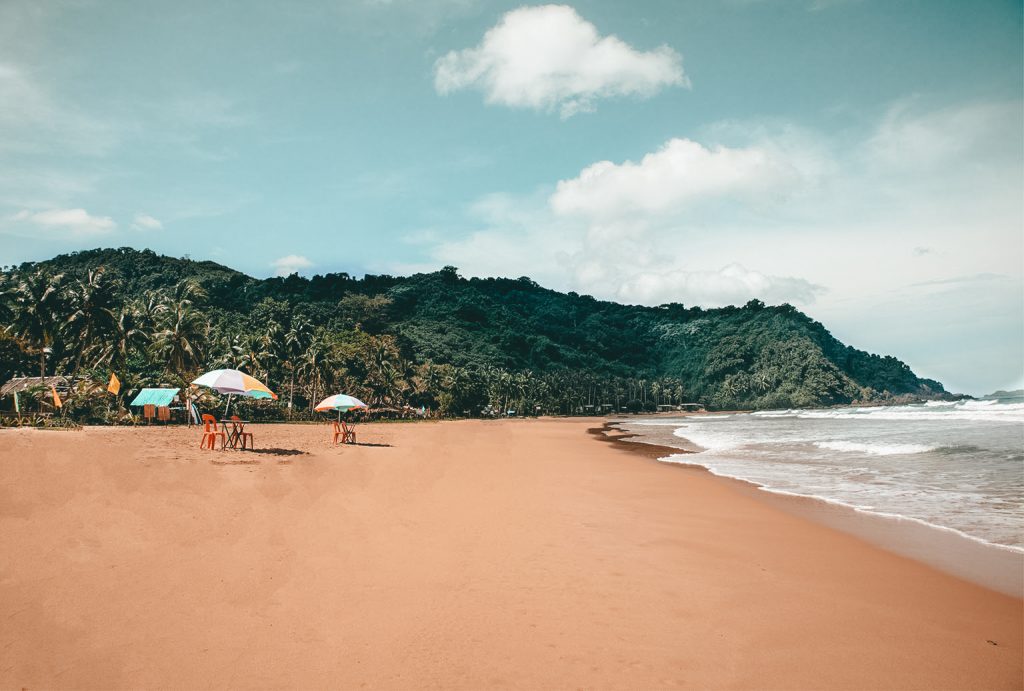 Crystal-clear blue waters, fine golden sand and a 2km long beach all to yourself… Duli Beach is definitely a gem! Going here is not an easy ride as you'll have to go through the rocky (also slippery if it's raining) road but it's worth it.
There's one resort by the beach if you want to stay here and enjoy as if it's your own paradise. It's more secluded with fewer food and drink places to choose from. Most people only go here for surfing or spending a peaceful and relaxing day at the beach.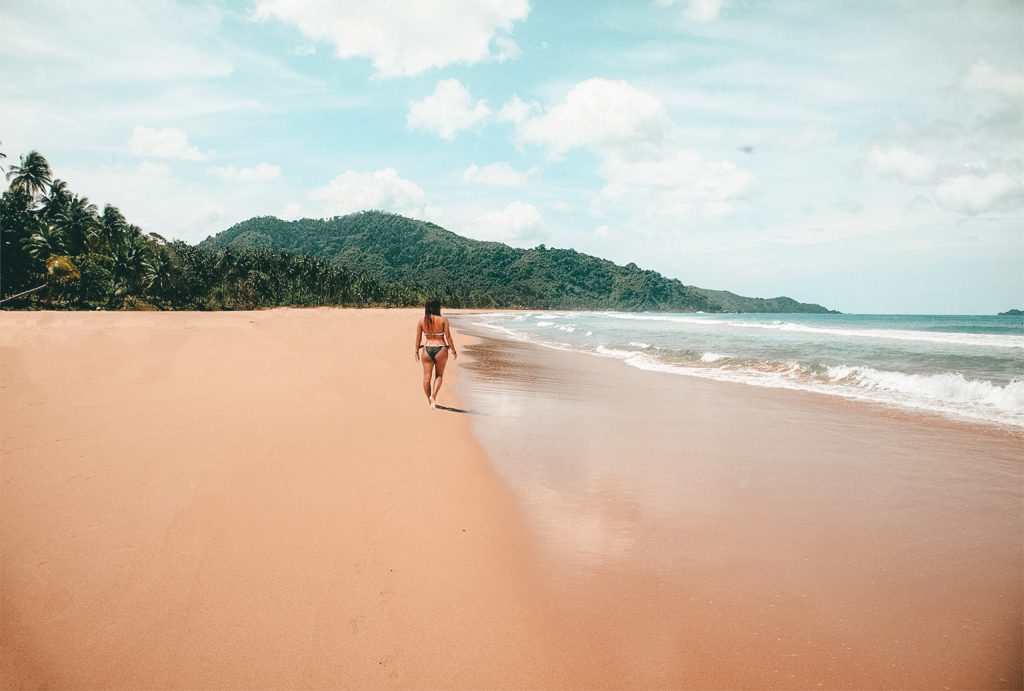 If you're not satisfied with how empty the place is, you can keep walking along the beach going north until you reach Mariposa Beach. You can do this during low tide, but have to climb and jump over the big rocks separating the two beaches. Then you will be welcomed by your own secret beach! Though we didn't think it was worth the struggle we went through, it still is an option if you want to have the beach all to yourself without any other single person around you.
How to Get There: You can hire a tricycle from P1000 per group or by motorbike which you can rent from P500 a day.
Also Read: El Nido Day Trip: By Motorbike
Talisay Beach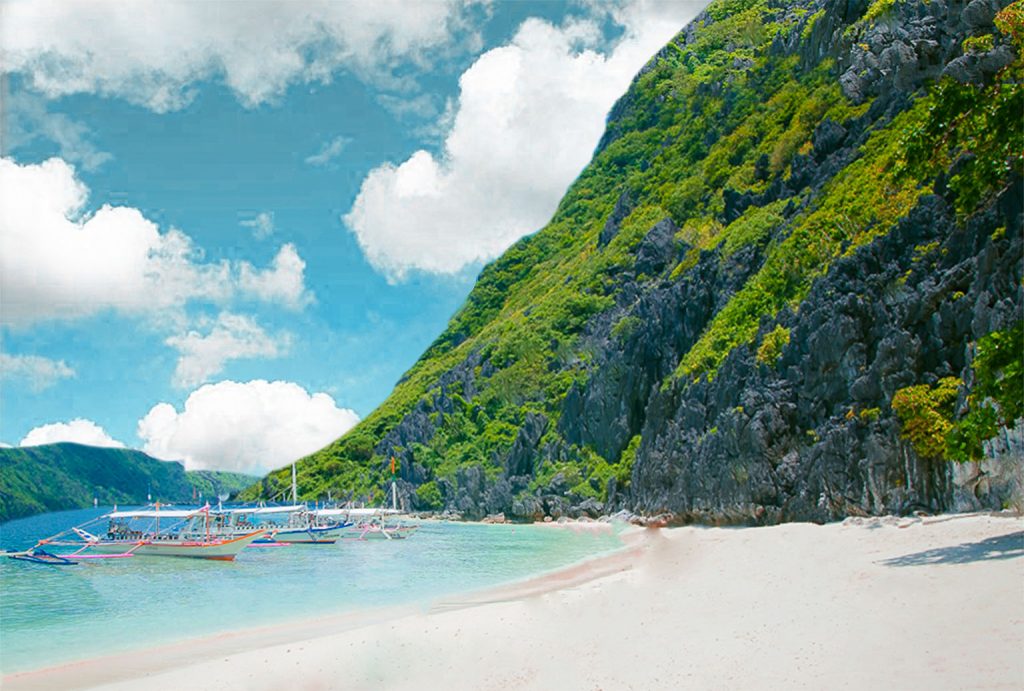 A pristine white-sand beach not as big and crowded compared to other beaches perfect for relaxing. The water is also calm and shallow so it makes for a more enjoyable swimming and snorkeling experience. Make sure to bring your snorkeling gear as you'll see a lot of different fish and marine life.
How to Get There: Save money by joining Tour C. You can also rent a private boat if want to customize your itinerary or you're a big group.
Note: Some of the beaches are short distance from El Nido town reachable by boat through island hopping tours (private or joiner tours) while the others by motorbike.
Read More: El Nido Palawan: Your Ultimate Travel Guide