El Nido Palawan is a dream paradise known for its white sand beaches, turquoise crystal-clear waters, beautiful corals, hidden lagoons, stunning limestone cliffs and a lot more!
El Nido is one of the top tourist destinations in the Philippines. If you've been here, you're probably thinking to revisit and see more of the islands that you missed before. Most people say that a lot has changed in this town— good and bad. Good that it's continuously developing to cater to different type of travellers and bad that it's getting overly crowded with highly increasing prices.

But what will never change is the kindness of the locals and the beautiful islands El Nido has to offer.

This trip was a dream of paradise becoming reality. A piece of advice, don't wait like I did: book your flight tickets and plan your trip to El Nido now!

How to Get to El Nido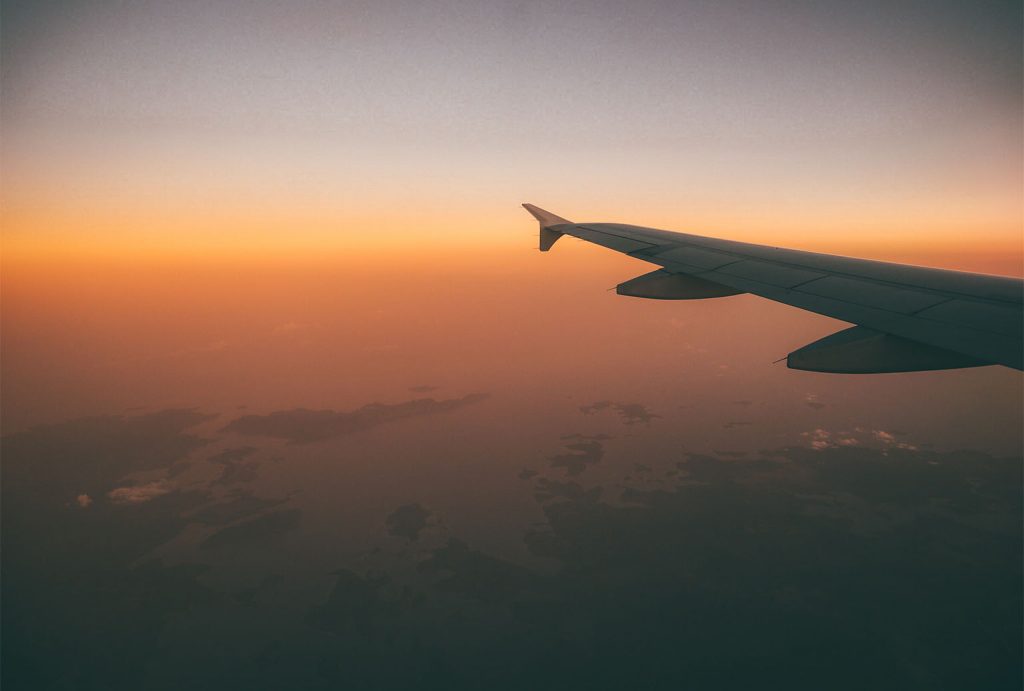 El Nido is situated in the northern part of the island of Palawan, between the two other famous tourist destinations: Puerto Princesa and Coron. Unfortunately, there are not a lot of direct flights to El Nido.

In fact, airswift is the only airline that flies to and from El Nido (LIO) airport.

Direct Flights to El Nido.
Direct flights to El Nido are available from Manila, Cebu, Caticlan, Clark, Puerto Princesa and Coron. They're a bit expensive but worth the convenience especially if your vacation time is limited. You can book your flights here.
Puerto Princessa to El Nido
I know it can be pricey to fly directly to El Nido but the good news is there are cheaper flights to Puerto Princesa through Cebu Pacific, Philippine Airlines and Airasia. If your flight arrives in the evening, you can travel to El Nido straight from the airport. But if you're not comfortable in traveling at night, then you can stay in Puerto Princesa and leave for El Nido the next day.
Note: We booked our flights from Taipei to Puerto Princesa with Cebu Pacific and had a few hours of layover in Manila. If you're coming from a different country in Asia and don't want to spend extra day/s in Manila, you can do the same thing.
Puerto Princesa to El Nido by Shuttle Van
Shuttle vans are an affordable way to transfer from Puerto Princesa to El Nido and vice versa. They're also faster though there's not a lot of legroom compared to taking regular buses. Some vans don't leave until they're full but usually this only happens during the low season.

Book your shuttle service in advance here or here.
Fare: starts at P500
Travel Time: 5-6 hours
Puerto Princessa to El Nido by Bus
Taking a bus is also an affordable option to get to El Nido. Though not as fast as the shuttle vans, these are a lot more comfortable. San Jose bus terminal is 6 kilometers away from Puerto Princesa airport. Outside the gate of the airport, you'll be greeted by tricycle (tuk tuk) drivers where you or your group can pay P120 per ride.
There are two bus companies running between Puerto Princesa and El Nido:
Cherry Bus
This one is a lot bigger and newer. You can purchase your tickets either online or by going straight to the terminal. You can book your tickets in advance here.
Fare: P385-P650
Schedules: 4:00 AM – 10:00 PM
Travel Time: 6-7 hours
Roro Bus
You can buy your tickets at San Jose Terminal in Puerto Princesa.
Fare: P290-P380
Schedules: 5:00 AM – 9:00 PM
Travel Time: 6-7 hours
Coron to El Nido by Ferry Boat
There are 3 boats that can bring you between Coron and El Nido. But the fastest one is Montenegro Lines' fast ferry. You can buy your tickets from any authorized ticket outlet in Coron or by just going to the port.
Fare: P1760
Schedule: 12:00 PM, daily
Travel Time: 3.5 hours
Best Time to Visit El Nido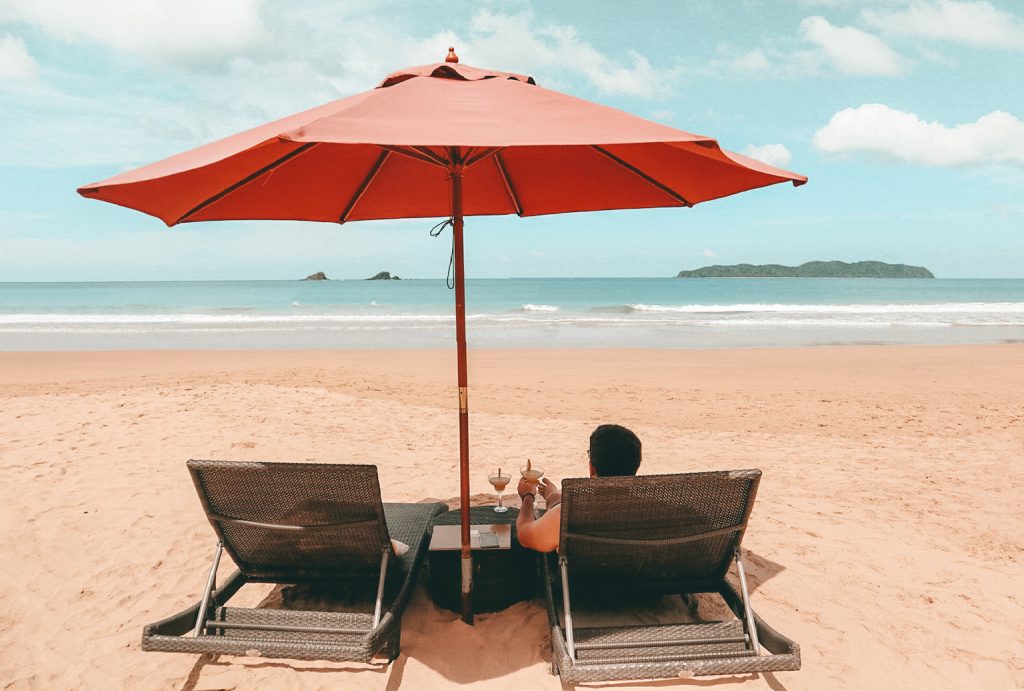 The island province of Palawan is usually not affected by the typhoons hitting the rest of the country. There are two main seasons in Palawan: the Rainy Season that runs from June to October with short heavy rains during the day and the Dry Season from November to May with the hottest months between March and May.
Also Read: El Nido Palawan: Your Ultimate Travel Guide
You can travel to Palawan all year round: during the Dry Season to experience more sunny weather or the Low or Rainy Season to avoid the crowds. We visited in November and it gave us pleasant weather for a nice relaxing holiday.
Where to Stay in El Nido

There are two places I'd recommend where to stay in El Nido:

Downtown El Nido
This is walking distance to the pier so you won't have to pay for the tricycle to get there during your island hopping tours. It's convenient to be in the center where most of the the bars, restaurants and everybody else are but it's also noisy. Most accommodation here are expensive for the quality of the rooms.

Here are the recommended hotels for you:
Corong-Corong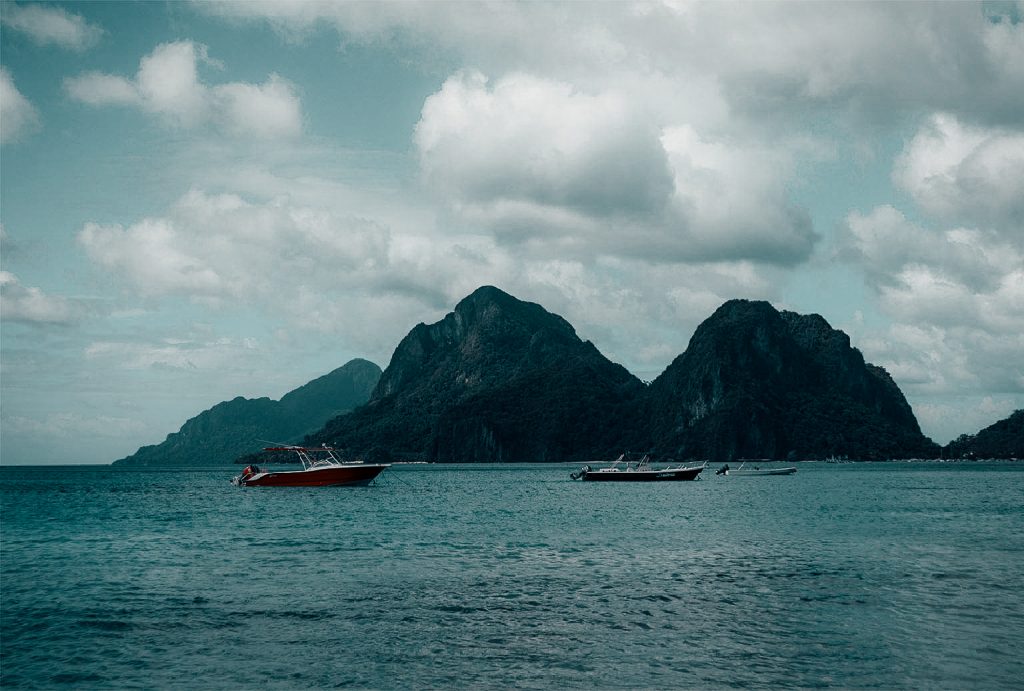 We loved our stay here! The area is more peaceful, close to the nice beaches and better prices for rooms. Though little bit far from downtown, you can always take a tricycle. We rented a motorbike which made it a lot easier for us to get around.
Here are the recommended hotels for you:
Tours in El Nido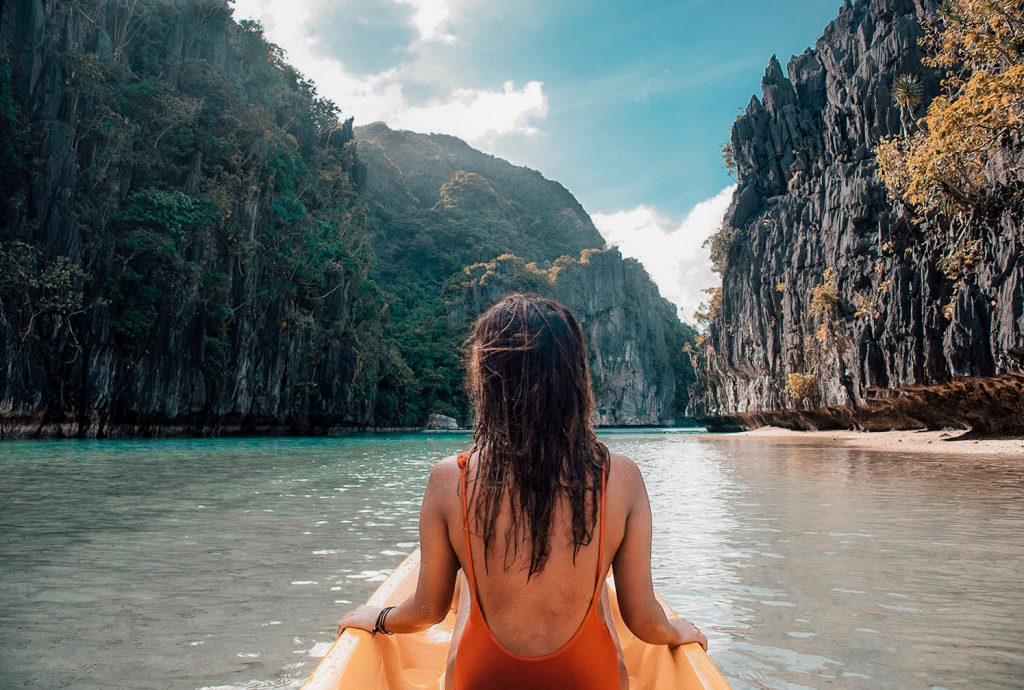 Island hopping tours are the most popular activities in El Nido. Prices and tour destinations are the same everywhere which include an english speaking tour guide, a delicious BBQ lunch, downtown hotel pick up/drop off* and snorkeling gear.

*The pier is just a short walking distance if you're staying in downtown so pickup and drop off may not be necessary.
Also Read: El Nido Palawan: Your Ultimate Travel Guide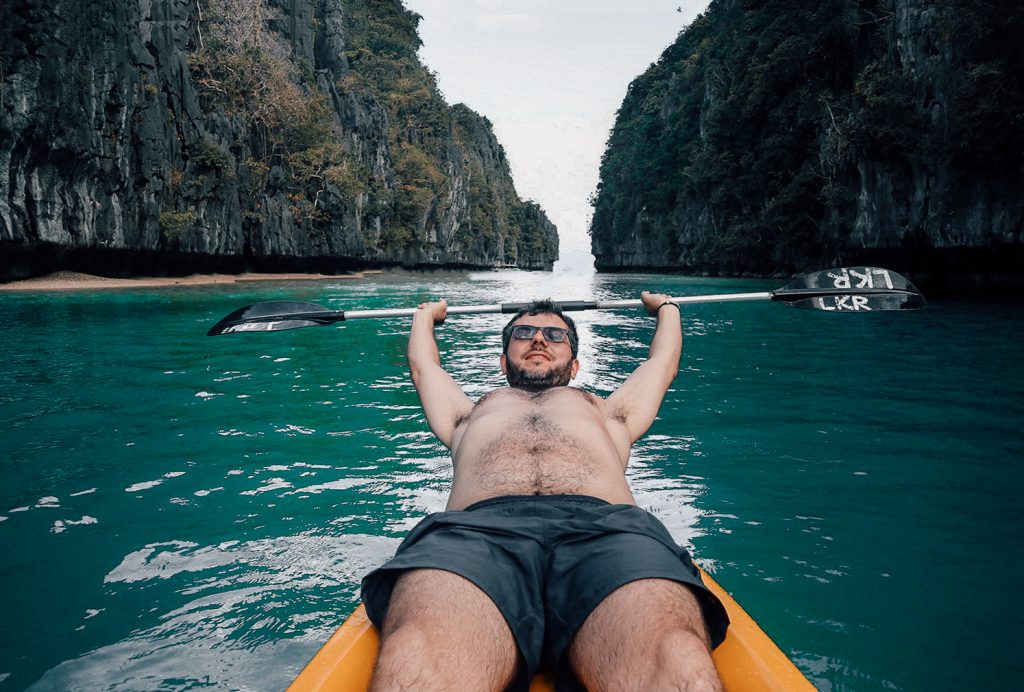 The tour will take you to the beautiful lagoons that you can explore by kayaking or swimming and to beautiful white-sand beaches where you can relax with a fresh coconut or a cold beer.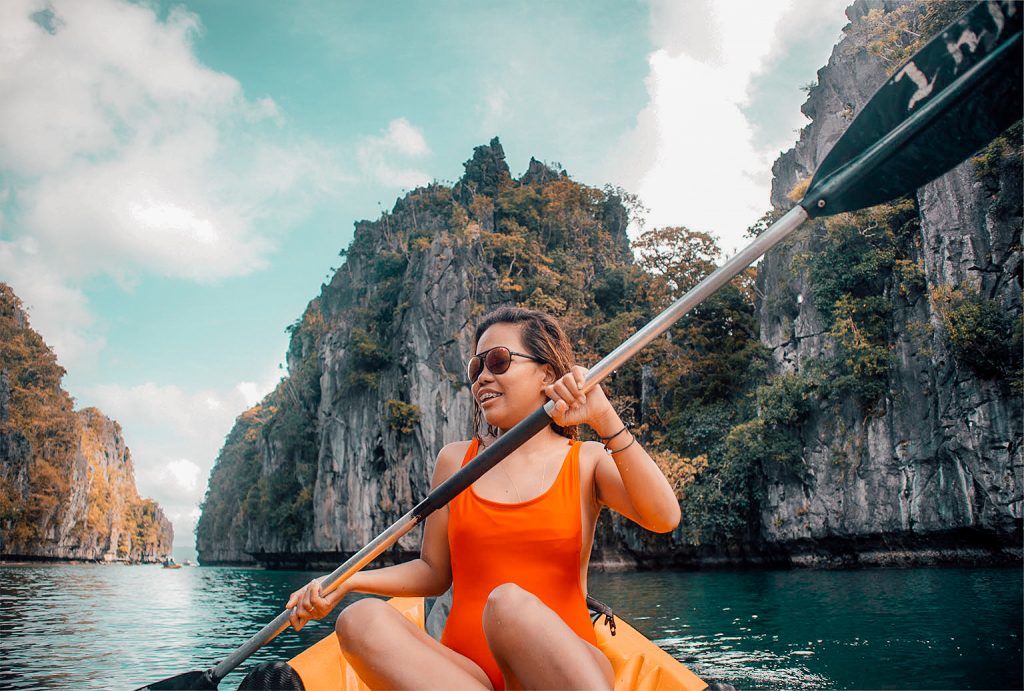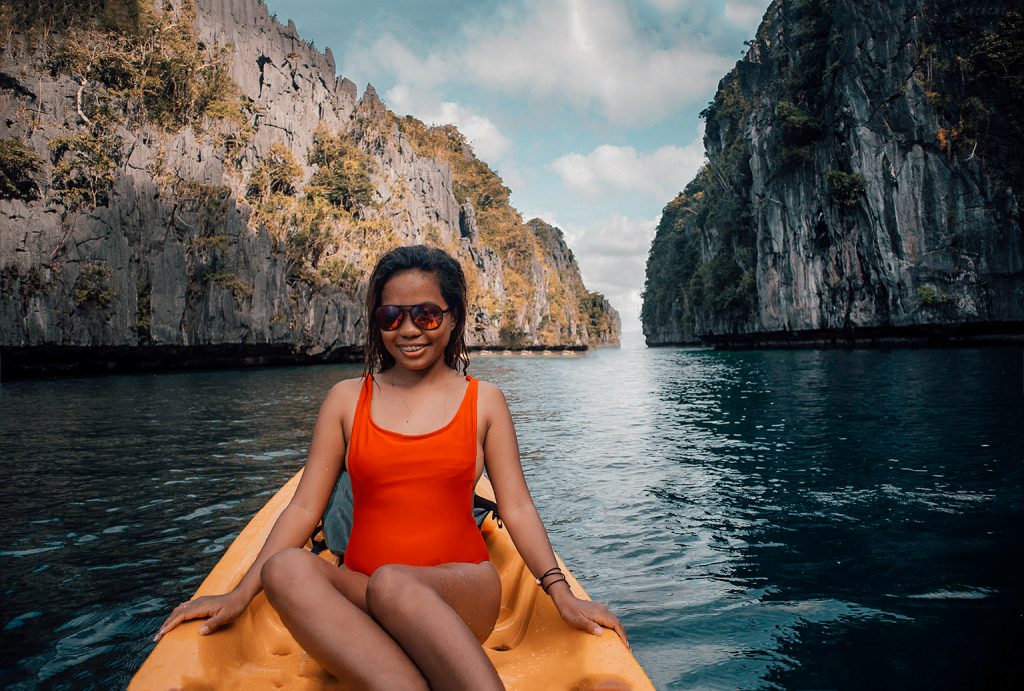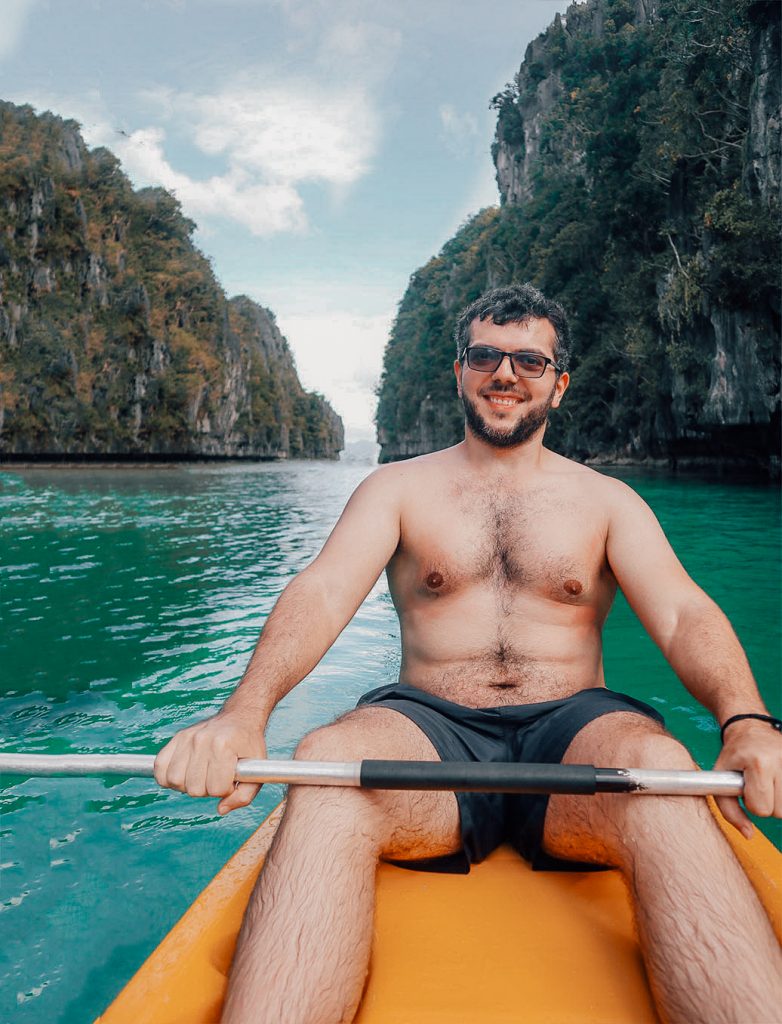 The destinations included are: Small Lagoon, Big Lagoon (optional), Hidden Lagoon, Shimizu Island and 7 Commando Beach. Kayaks are available for rent at P400 for two people which we did in both big and small lagoons. But if you only want to do it once, I recommend it at the Big Lagoon.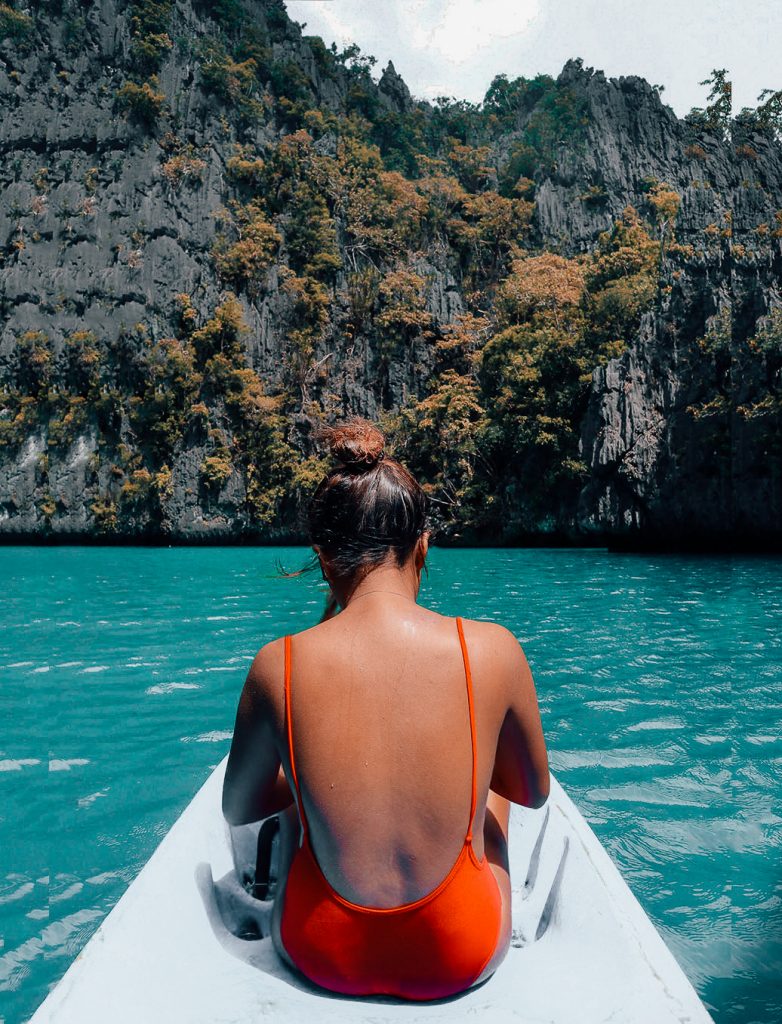 Regular Price: P1200
To enjoy a great discount, book your tour here.
Not as a popular as Tours A and C but not as crowded at the same time. This tour lets you enjoy beautiful beaches and snorkeling with just a few other tourists.

The destinations included on the tour are: the famous Snake Island for its sandbar, Pinagbuyutan Island, Pangulasian Island, Cudugnon Cave and Cathedral Cave.
Regular Price: P1300
To enjoy a great discount, book your tour here.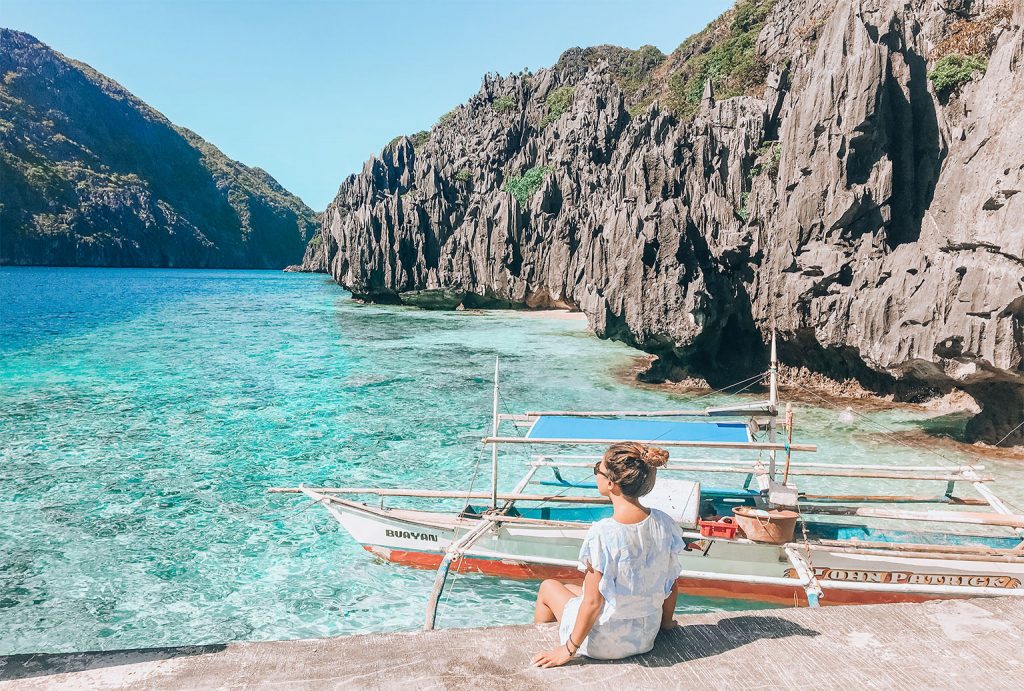 This is my favorite that you shouldn't miss! You will be visiting the most famous and beautiful beaches and snorkeling spots in El Nido.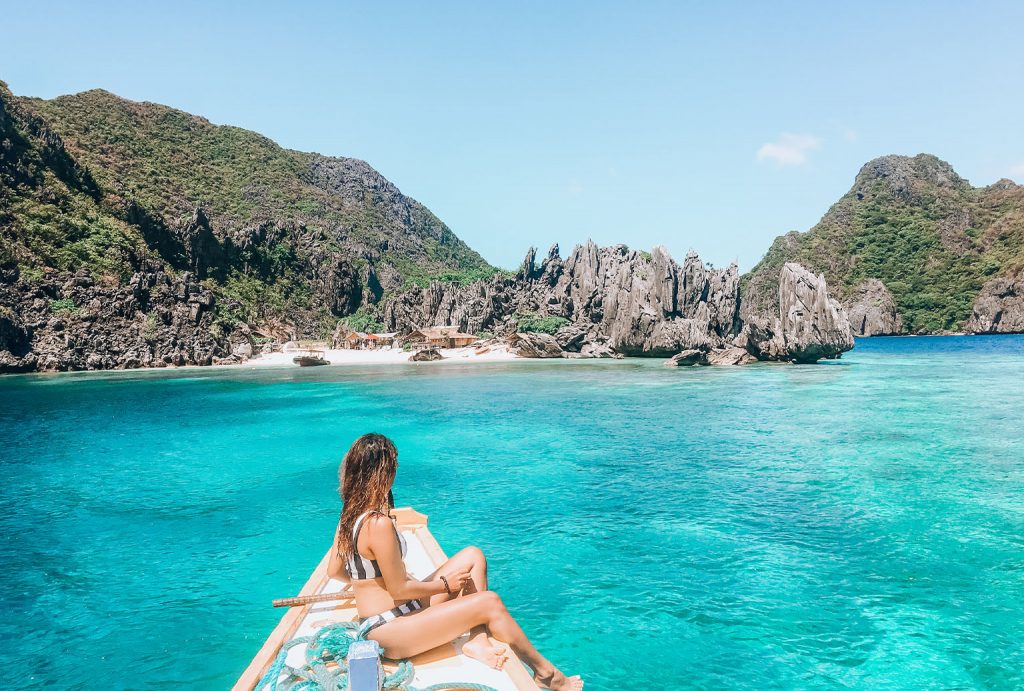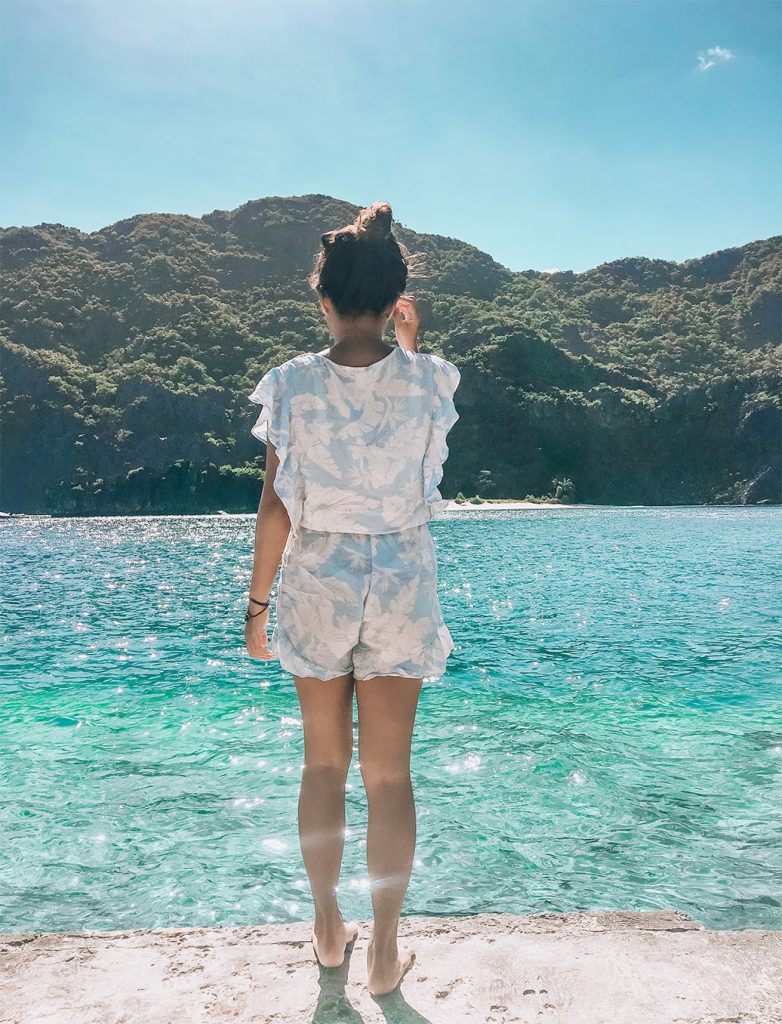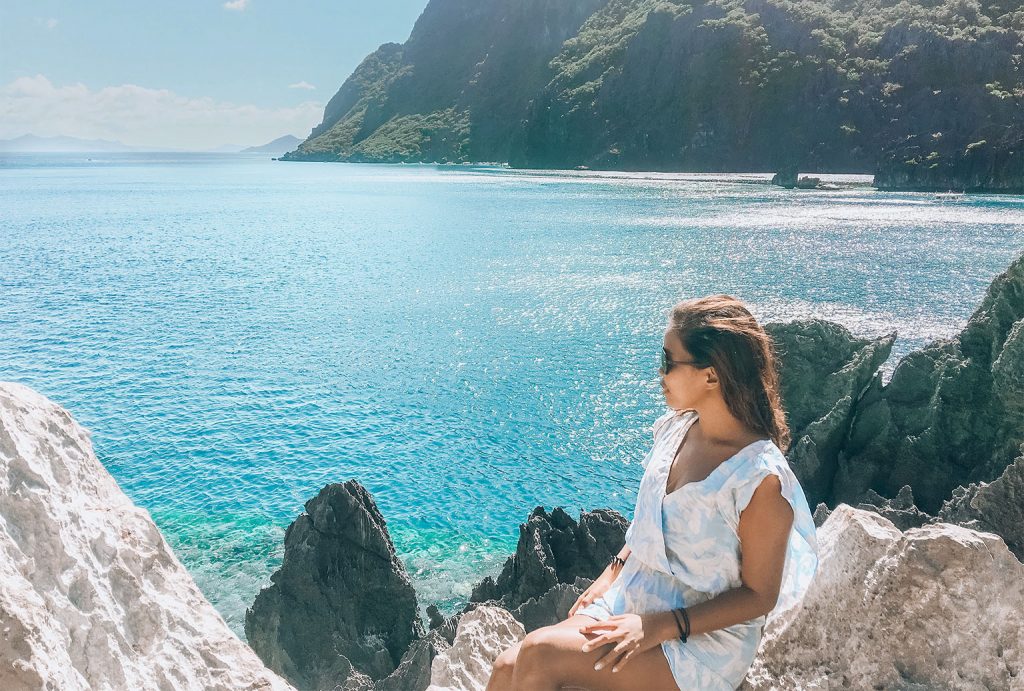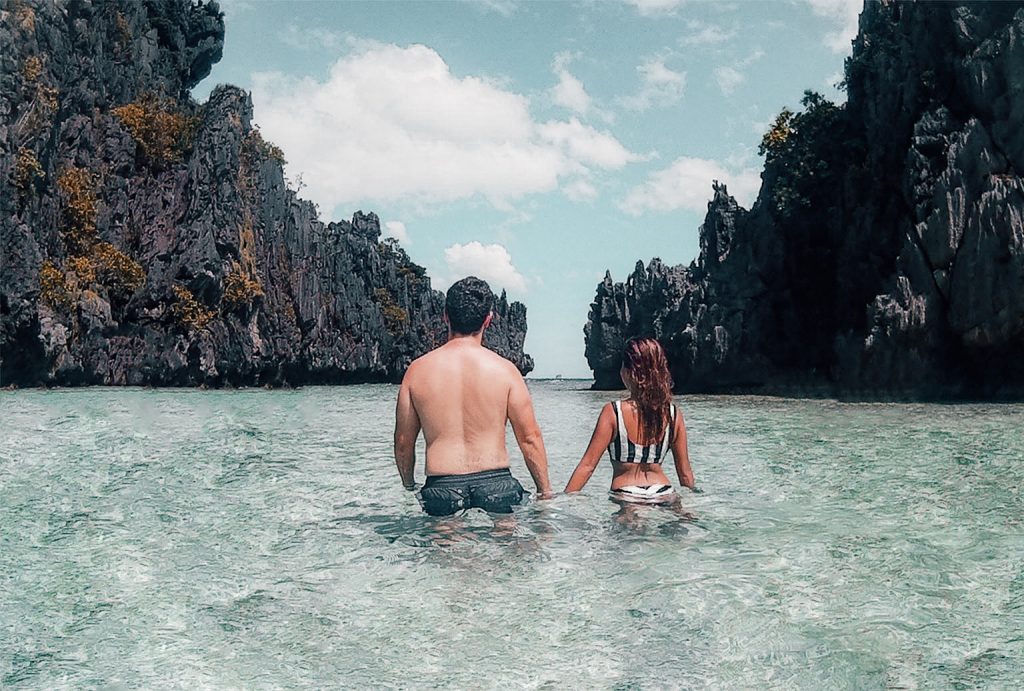 The destinations included are: Helicopter Island, Matinloc Shrine, Secret Beach, Tapiutan Island (Star Beach or Talisay Beach) and Hidden Beach. Expect the trip to be a bit rough as it is going through the open sea.
Regular Price: P1400
To enjoy a great discount, book your tour here.
Tour D

This is not one of the most popular tours but this allows you to see more of the beautiful lagoons and beaches.

The destinations included are: Cadlao Lagoon, Paradise Beach, Pasandigan Beach, Natnat Beach and Bukal Beach.
Regular Price: P1200
Island Hopping Tips in El Nido:

Free hotel transfers are limited within El Nido town only. Tour operators will charge a fee if you're staying outside of town and wish to be picked up and dropped off before and after the tour. But I recommend to just take a tricycle (tuk tuk) for P150-P200 per ride from your hotel outside of town. You can also walk to the agreed meetup location with your tour operator instead of waiting for them to pick you up if your hotel is in downtown.
A one-time P200 El Nido Eco-Tourism Development Fee (ETDF) valid for 10 days is required but not included on the tour prices. You can pay it through your tour operator on the day of the tour. Remember to take the receipt back from them as you'll need it for your other island hopping tours.
Tour destinations can be changed or restricted depending on the weather or volume of tourists.
Also Read: Day Trip in El Nido by Motorbike

Tips When Traveling to El Nido

Cash

You will be needing cash when paying to most of the restaurants and stores in El Nido. There are a few ATMs located in El Nido town and by Corong-Corong market. A lot of people say that they usually run out of cash especially during the high season. We didn't experience this but always take out money a day in advance to make sure you'll have extra in case issues like this arise.
Motorbike Rental

Aside from the island hopping tour, there are a lot of amazing places you can explore in El Nido by land. We stayed outside of El Nido town and decided to rent a motorbike the entire time we were there. Rental rates are between P500-P700 depending on the type of motorbike you're renting. Be careful of people that may approach and offer you rentals as they may charge you more than what you can directly get from the owner.

We rented ours at Palawan Bikes, a Yamaha 155 scooter and paid P500 per day (which somebody else offered us for P700!). He even let us bring the bike at El Nido airport and picked it up himself so we didn't have to pay extra for the airport transfer. If you're interested to rent at the same place, it's by Caltex El Nido station beside Bacuit Petrol station or just contact the owner at 0917-728-8804.

Read More: Road Trip in El Nido: By Motorbike

Prices

El Nido has now become one of the most crowded tourist destinations in the Philippines so apparently prices have and will continue to increase. Expect to pay around P150-P200 ($3-$4) for a meal at a restaurant in town. The other cheaper option is to eat at smaller restaurants. Chips and drinks at the stores are also marked up quite a bit. The fare for example in taking a tricycle (tuk-tuk) from our hotel was P150-P200 one way to town.

Safety

I've seen a lot of people asking if it is safe to travel to El Nido. The quick answer is YES, it is safe to travel to El Nido and to most of the tourist destinations in the Philippines.

Electricity

Power outages are a regular occurence in El Nido, and we experienced a few during our stay. This can be a challenge if you're staying inside the room on a hot day. Make sure that you book a hotel with a generator. In our case, the AC would not work on generator.

Water

There are a lot of tourist complaining about getting sick on their first days in El Nido. This has been going on for a few years now. The contaminated water in El Nido is the obvious reason. I hope you are reading this prior to your trip so you'd be more careful.

We made sure to only drink bottled water bought from the store or provided by our hotel. Some hotels provide purified drinking water for you to refill your bottles. Most restaurants serve free drinking water, so you either have to ask to make sure they're not tap water or just avoid drinking it all together.

Water Shoes

If you have your own water shoes, then it's best to bring them! Renting a pair costs P100 per day. You can also buy water shoes at almost every corner of town for P350 (the quality was ok but not sure how long they're gonna last). Water shoes are recommended if you are going to the secret beaches and lagoons because of the sharp rocks. They are also a must when you go snorkeling.
I hope this will help to get you prepared for one of the best adventures you'll ever have! Let me know in the comments if you have other questions.

…or if you've been to El Nido, let me know how it went!